You are out and about and you get that familiar rumble in your stomach, it's time to grab something quick to eat. As a vegetarian that can be tricky. What are the best vegetarian options at Subway?
Subway offers a wide variety of bread, cheeses, vegetables, and sauces which enables you to build the perfect customized vegetarian sandwich. If you would like a little more protein Subway has an egg and cheese sandwich that is available all day. Opt out of bread with a build-your-own salad.
How Easy Is It To Order As A Vegetarian At Subway
Subway is a very easy restaurant to order a meal at as a vegetarian. At Subway you can build your own sandwich or salad out of all of their ingredients. It's very easy to grab a quick and filling vegetarian meal.
Subway shines with its easy-access style. When you stop at a Subway (which is everywhere) you are greeted by an employee behind a counter with endless salad and sandwich options.
Within a few minutes, you are out the door enjoying your meal.
Vegetarian Options At Subway
Subway has a big selection of ingredients that you can use to build your own sandwich or salad.
Vegetarian Sandwiches At Subway
Veggie Delight
The classic veggie delight has been around from the beginning. This veggie-loving sandwich can be created with your favorite bread, cheese, dressing, and veggies.
Veggie Delight Wrap
The same customizable veggie sandwich made in your favorite flavor wrap.
Egg & Cheese
An egg and cheese sandwich is always a good protein-rich meal at any time of the day. Subway's egg & cheese sandwich includes eggs with melty cheese on a toasted folded flatbread. Don't forget that you can add any of your favorite toppings.
Veggie Delite Salad
The veggie delight salad is a vehicle for you to build your own salad to your liking. With all of the ingredients available, it's easy to create a delicious bread-free meal.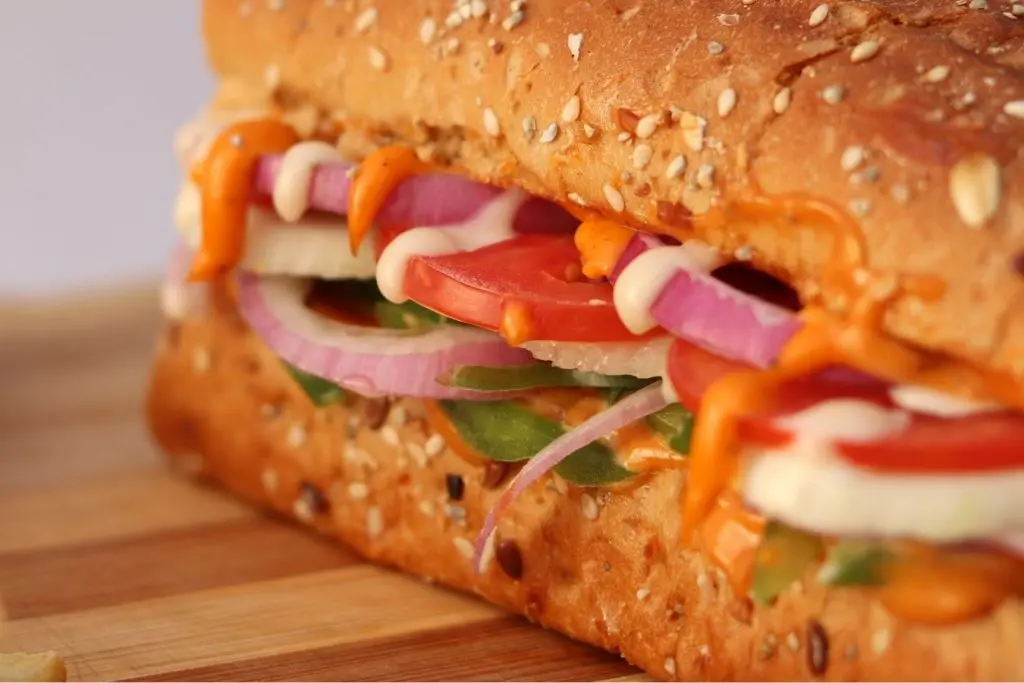 What Ingredients At Subway Are Vegetarian
As I mentioned before Subway is more about building your own sandwich or meal. That all starts with an abundance of ingredient options.
What Vegetarian Breads At Subway
Italian
Italian herbs & cheese
Hearty Italian
Parmesean oregano
Roasted garlic
Rosemary & sea salt
Jalapeno cheese
Monterey cheddar
Rye
9-Grain wheat
9-Grain honey oat
Flatbread
Multi-grain flatbread
Gluten-free bread
Each subway will have a different selection of bread, they may not have all of the bread options available.
How Long Are Subway Sandwiches Good For
What Vegetables Are Offered At Subway
Lettuce
Tomatoes
Onions
Green Peppers
Mushrooms
Spinach
Cucumbers
Carrots
Banana peppers
Guacamole
Avocado
What Cheeses Are Offered At Subway
American
Monterey
Cheddar
Pepperjack
Mozzarella
Provolone
Swiss
Feta
Not every Subway restaurant will offer every cheese option.
What Types Of Cheese Does Subway Use? (All About Subway Cheese)
What Vegetarian Sauces Are Offered At Subway
Regular mayo
Light mayo
Subway vinegarette
Oil
Vinegar
Ranch
Chipotle southwest
Sweet onion
Mustard
Barbeque
Buffalo
Creamy Italian
Golden Italian
Honey mustard
Savory Ceasar
Siracha
Tzatziki
The sauce offerings may also vary per restaurant.
Build Your Own Vegetarian Subway Ideas
I love the option of being able to create your own sandwich. Here are some ideas.
Egg and cheese with sriracha and avocado
Egg and cheese with tomatoes and feta
Egg and cheese with mushrooms and Swiss
Buffalo ranch veggie sandwich
Toasted veggie
Barbeque sauce with onions, peppers, mushrooms, and cheese toasted
Lettuce, cucumber, and carrots with tzatziki
Chipotle southwest with veggies and pepper jack cheese
What Does Subway Have For Vegetarian Sides
The classic side dish to a sandwich will always be a crunchy potato chip. Subway is sure to have all of your favorites.
Lay's original
Lay's Barbeque
Lay's Salt & Vinegar
Sunchips
Dorito's
Does Subway Have Desserts
Subway offers applesauce and cookies for two sweet options.
Will Subway Offer More Vegetarian Options In The Future
Subway has been testing additional vegetarian options in some of its restaurants. There is hope that some of these will make it to their full-time menus.
Three vegan sandwich options have been tested in the Washington, DC area.
The Malibu Greek- A falafel patty with veggies
Italian Black Bean- A spicy black bean patty
Sweet Riblet- Barbeque vegan "riblet" patty
Does Subway Have Meatless Meatballs
The meatball marinara used to be one of my favorite subs at Subway before I became a vegetarian.
Subway has partnered with the Beyond Meat company to create meatless meatballs for their restaurants.
At this point in time, meatless meatballs are only offered at limited restaurants but, I can see this becoming a staple menu item due to the popularity of plant-based meat products.
Vegetarian Subway Options Outside Of The US
I don't know why but, there always seem to be vegetarian options that are offered in other countries but, don't make their way into the US market. Let's take a look at some of these options.
Vegetarian Options At Subway In The UK
TLC Sub – The "tastes like chicken" sub is a vegan patty that simulates chicken made from soy
Plant Patty- a vegetable patty sandwich
Vegan Cheese Toasted Bite- A ciabatta roll filled with cheese and veggies and toasted to perfection
Vegan Garlic Aioli Wrap- A wrap loaded with veggies, plant patty, and a delicious garlic aioli
Vegetarian Options At Subway In Finland
Vegan Delite – A meat-free "steak sub" made with a soy and vegetable-based spicy steak patty you can add your favorite vegetables and sauces
Vegetarian Options At Subway In India
Corn and Peas- A sandwich filling made from corn, peas, and carrots mixed with a vegan mayo topped off with lettuce tomato and onions on your favorite bread
Aloo Patty- A patty sandwich made from a base of potatoes with vegetables and spices
Hara Bhara Kebab- A patty made from potatoes, spinach, herbs, and peas
Mexican Patty- A bean-based patty with spicy Mexican flavors
Paneer Tikka- Marinated cottage cheese pieces in barbeque sauce
Tandoori Tofu- Tofu cubes in a spicy tandoori sauce with your favorite fresh vegetables
Veg Seekh- A flavorful patty made from potatoes, vegetables, and spices
Veg Shammi Kebab- A round patty sandwich made from lentils, vegetables, and spices
Chatpata Chana- A chickpea, onions, and peppers filling
Looking For More Subway Information?
Recommended Guides
Final Thoughts
A subway is a great option for a quick meal as a vegetarian. With all of the different ale carte selections, you are sure to be able to create your perfect sandwich.
Other Articles You May Enjoy!
The Best Vegetarian Options At Pei Wei
What Are The Best Vegetarian Options At McDonald's? 18 Fast Foods!