Being a vegetarian at Thanksgiving can be challenging. As a vegetarian, I've spent many Thanksgivings eating a plate full of side dishes. The sides are delicious of course but, having a vegetarian main dish that can be the star of the show makes for the best Vegetarian Thanksgiving.
This Vegetarian Thanksgiving dinner includes a fantastic main dish, four side dishes, and a dessert. This menu feeds 8-10 people. I'm including a shopping list and meal preparation tips to ensure an easy, affordable, and delicious Vegetarian Thanksgiving.
Let's get into this menu.
Vegetarian Pot Pie is the perfect main dish for vegetarians at Thanksgiving. It's full of your traditional Thanksgiving flavors and vegetables wrapped up in a delicious gravy and flakey pie crust. Pot Pie can also be made ahead of time. More on that later in the tips and tricks section.
Stuffing is my favorite Thanksgiving Side Dish. This stuffing recipe is a vegetarian version of a classic stuffing. The flavors of this stuffing are sure to please your stuffing lovers.
Roasted carrots are an easy and delicious vegetarian Thanksgiving side dish. These roasted carrots are glazed in maple butter and roasted until golden caramelized perfection. The carrots are little candied bites of bliss.
Green beans roasted in garlic and thyme butter are another easy and delicious side dish to add to your menu.
Cranberry sauce is another classic dish that must be on any Thanksgiving menu. This Easy Homemade Cranberry Sauce will convert you to team homemade cranberry sauce.
Pumpkin Pie to me is the dessert of Thanksgiving. This pumpkin pie recipe is based on one from a local deli restaurant that has the Best Pumpkin Pie. If you like pumpkin pie spice this pie is for you. You may need to make two pies if you love pie the way we do.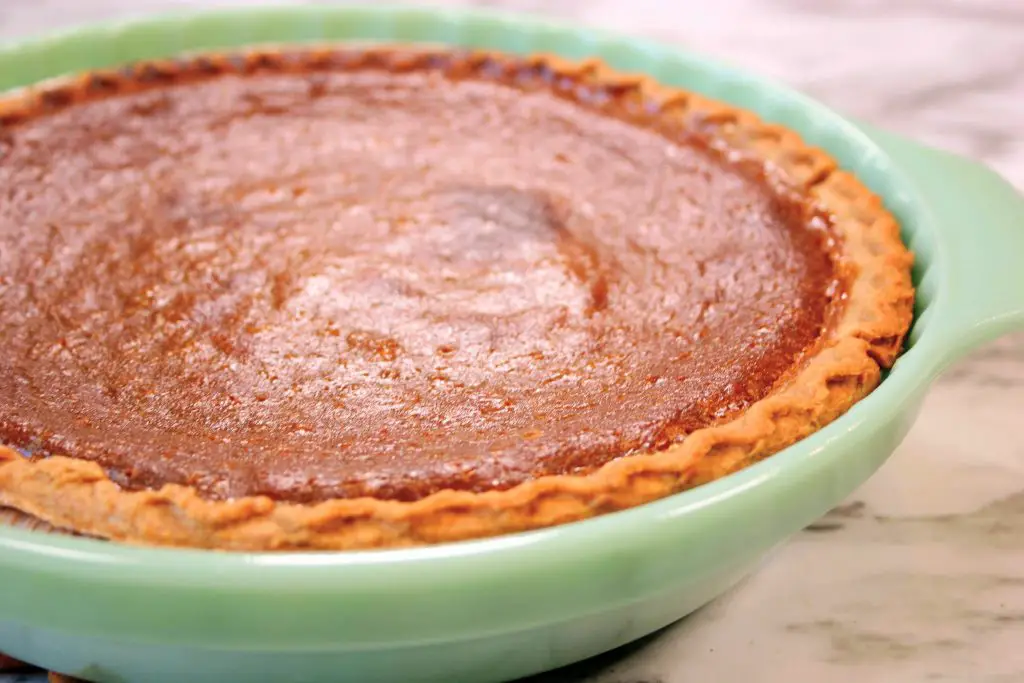 Vegetarian Thanksgiving Tips And Tricks
Vegetarian Thanksgiving Menu Shopping List
I've broken down the shopping list into two categories. The Pantry items are items you may have on hand already. The fresh items are the items I am assuming will need to be bought specifically for your Vegetarian Thanksgiving.
Pantry Items
1 1/2 cups Sugar
1 tsp Flour
3/4 cup Maple Syrup
1 tsp Vanilla Extract
1 3/4 tsp Salt
1 tsp Cinnamon
1/4 tsp Nutmeg
1/4 tsp Cloves
1 tsp Paprika
1 1/4 tsp Thyme
1 tsp Poultry Seasoning
Fresh Ingredients
3 Pie Crusts
1 1/2 cups Frozen Mixed Veggies
2 Eggs
1 cup Heavy Cream
1/2 cup Milk
1 cup Butter
1/2 cup Orange Juice
1 can Pumpkin Puree
1 loaf of Bread
1 cup Celery
2 cups Onion
2 lbs Carrots
2 lbs Green Beans
6 Garlic Cloves
1 Potato
12 oz Cranberries
Vegetarian Thanksgiving Price Breakdown
What To Make With Thanksgiving Leftovers
Vegetarian Thanksgiving Sandwich – Buy some rolls and tofu and you are all set for delicious sandwiches.
I hope this Vegetarian Thanksgiving Menu Plan helps you have an easy, delicious, and memorable Thanksgiving. Enjoy!