Jump to Recipe
Carrots transform into a superpower when roasted. They become so sweet, tender, and caramelized. With the addition of maple syrup butter, these roasted carrots are a perfect vegetarian side dish.
Maple Butter Glazed Roasted Carrots would be a perfect addition to your Holiday meals. They are quick, easy, and delicious.
Maple Butter Glazed Roasted Carrots Ingredients
Carrots – The star of this dish, you can use baby carrots or whole carrots cut into baby carrot size
Maple Syrup- Make sure you use real maple syrup
Butter – The butter flavor is important so, only use real butter
Cinnamon- Adding a pinch of cinnamon adds the perfect amount of added flavor and heat to the carrots
Fun Carrot Facts
Eat carrots to improve your eyesight! While it's true that carrots are high in beta-carotene, which the body converts to a form of vitamin A called "retinal," a key molecule involved in maintaining normal vision.
Unless you are very deficient in vitamin A, carrots won't make bad vision better.
The thought that carrots improve eyesight can be traced back to the British Royal Air Force during World War II when pilots were using radar for the first time to spot and shoot down enemy planes. In an effort to conceal this new "cutting edge" technology, a rumor was started that the pilots ate a lot of carrots, which allowed them to see better at night. The fabricated "fact" stuck and, to this day, people are being told to eat carrots to improve vision.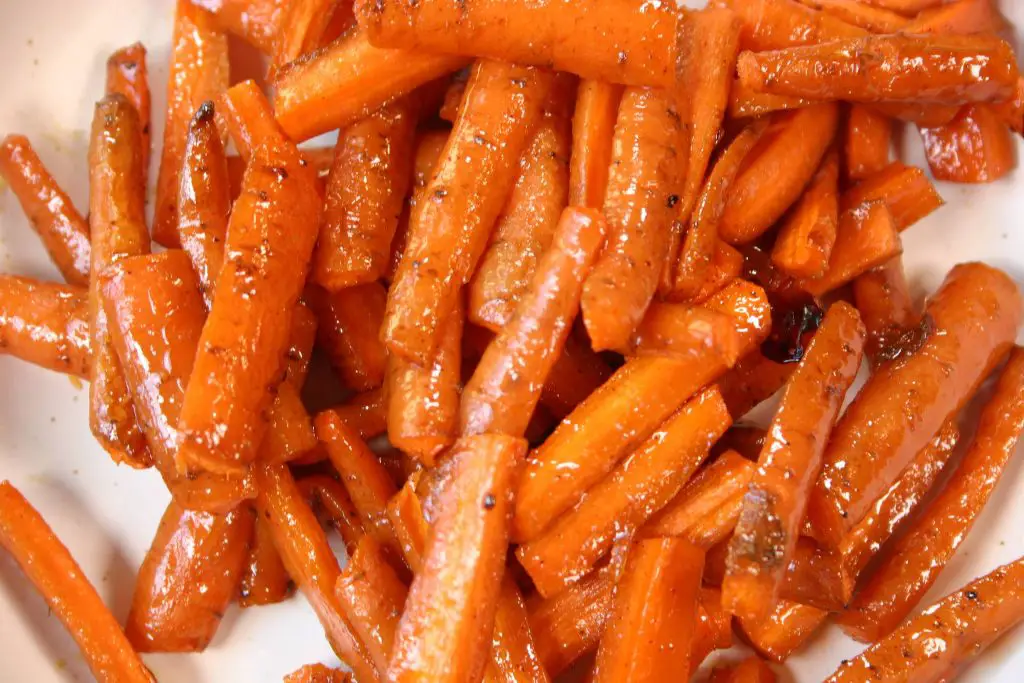 What To Do With Leftover Carrots
Make a smoothie with the carrots
Make soup, cook onion and garlic in butter. Blend with the carrots and add broth. Add some milk or cream for a creamy soup.
Puree and add into muffins or pancakes
Serving Suggestions for Maple Butter Glazed Carrots
These carrots are a perfect side dish for a Vegetarian Holiday Meal.
Maple Butter Glazed Roasted Carrots Price Breakdown
Pantry Ingredients
3 tbs Butter
1/4 tsp Salt
1/4 tsp Pepper
3 tbs Maple Syrip
Pinch of Cinnamon
Fresh Ingredients
Total Price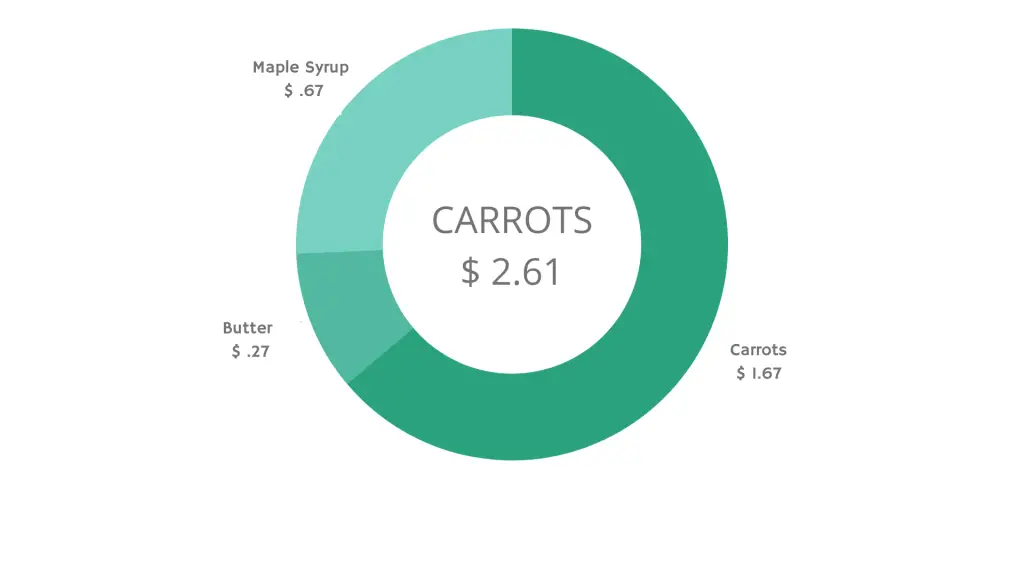 For 10 servings this recipe totals $ 2.61.
The per serving price is $ .26.
Enjoy!
Maple Butter Glazed Roasted Carrots
Course: Sides
Difficulty: Easy
Sweet Carmelized Carrot Bites. The perfect side dish.
Ingredients
2 lbs Carrots

3 tbs Butter

3 tbs Maple Syrup

1/4 tsp Salt

1/4 tsp Pepper

Pinch of Cinnamon
Directions
Preheat Oven to 400
Line baking sheet with parchment or foil
Cut the carrots into bite size pieces
Melt the butter and maple syrup in a sauce pan
Add in salt, pepper, and cinnamon
Toss carrots in the maple butter
Bake the carrots for 20 minutes, stir and bake for 15-20 minutes more until golden and caramelized