Jump to Recipe
Pumpkin Pie is Fall Leaves, Pumpkin Festivals, Haunted Hayrides, Corn Mazes, Halloween and Thanksgiving wrapped up into one perfectly creamy pumpkin spiced bite.
When it's pumpkin pie season in my house I know we are making all of those Fall family memories that I'll cherish. It's amazing how food can connect us to people and memories. One bite of grandma's favorite dish can transport you back into time to the good old days spent with her.
Living in Florida now we don't have the distinct change of the seasons into Fall as we used to in Maine. I don't miss the cold weather but, the changing color of the leaves was a stunning sight. One bite of Pumpkin Pie gives me all the Fall feels.
The Best Pumpkin Pie
I would have a hard time calling something the Best. Everywhere you look something's being called "The Best". It's a pretty subjective thing and depends on your personal tastes.
In my opinion, the best pumpkin pie recipe doesn't belong to me. It belongs to a local restaurant and deli near me called Mazarro's Italian Market. It can be hard to find a parking spot at Mazzaro's and walking around inside can be hard to do due to its popularity. During the Fall they start baking their delicious pumpkin pie.
You have to get there early to get your hands on one of these golden pies. It feels a bit like Willy Wanka and that magical golden ticket. It's pumpkin pie perfection. The perfect velvety bite with just the right amount of spice. Some pumpkin pies can be bland. Not this pie. The pumpkin spice flavors are very forward and it's perfect.
I've been trying to replicate this pie for years. The Pumpkin Pie I am sharing with you today is my version of Mazzaro's Pie.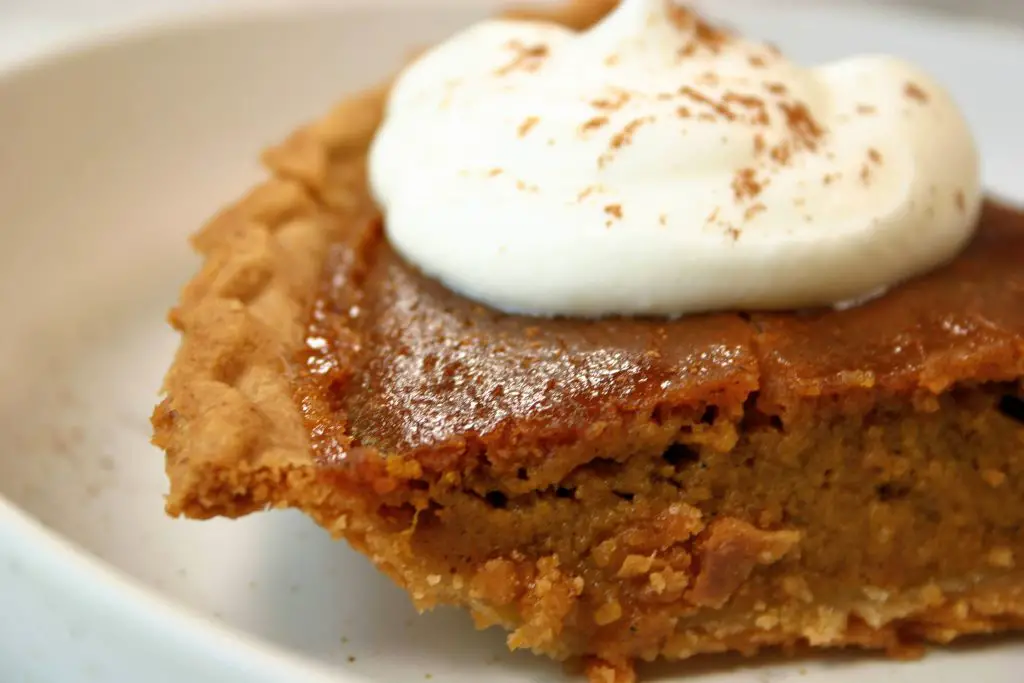 Interesting Pie Facts
Pie isn't just for dessert. 35% of Americans have eaten pie for breakfast, 66% have enjoyed pie at lunchtime, and a whopping 59% like munching on the pie for a midnight snack.
Have you ever enjoyed a slice of pie for Breakfast? I have. Whenever there is a pumpkin pie in the house I'll be looking for it in the morning with a nice cup of coffee. Yum.
Pumpkin Pie Serving Ideas
Honestly, pumpkin pie is perfect all by itself. If you want to add a little more love to the pie a dollop of whipped cream is the standard go-to.
Along with the whipped cream, you could add a sprinkle of cinnamon or nutmeg.
A drizzle of caramel or chocolate sauce over the whipped cream would be delish.
Some crushed pecans would add some nutty crunch.
This Pumpkin Pie makes a great addition to a Vegetarian Holiday Meal.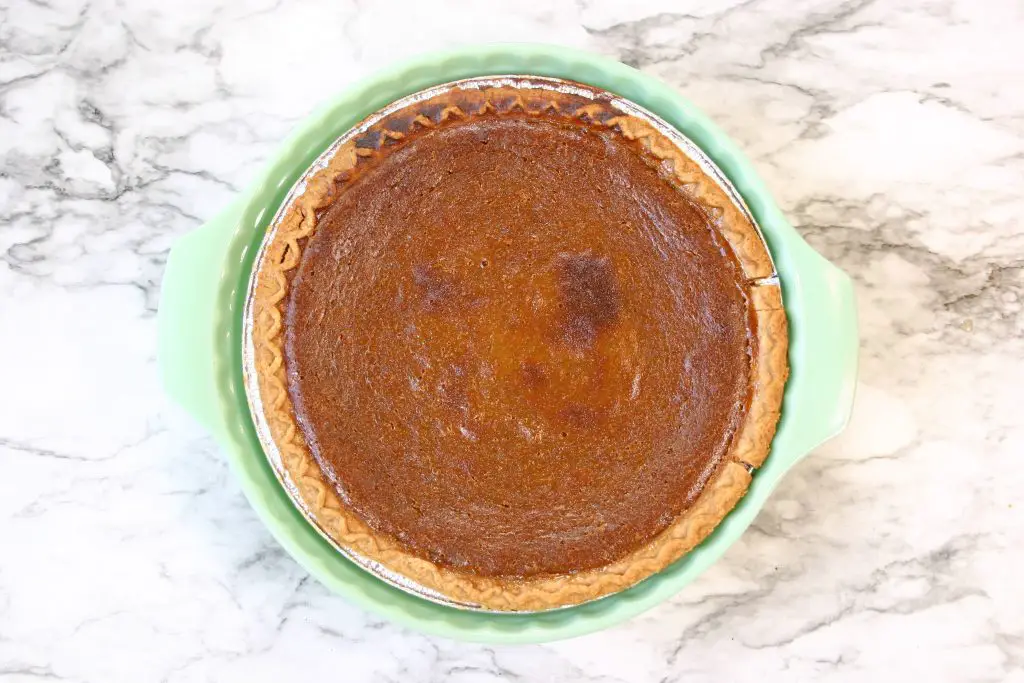 Pumpkin Pie Price Breakdown
Pantry Ingredients
1/2 cup of Sugar
1/2 cup of Maple Syrup
1 tsp Vanilla
1/4 tsp Salt
1 tsp Cinnamon
1/4 tsp Nutmeg
1/4 tsp Cloves
Fresh Ingredients Needed For The Recipe
Pie Crust
1 3/4 cups of Pumpkin Puree
2 eggs
1 cup of Heavy Cream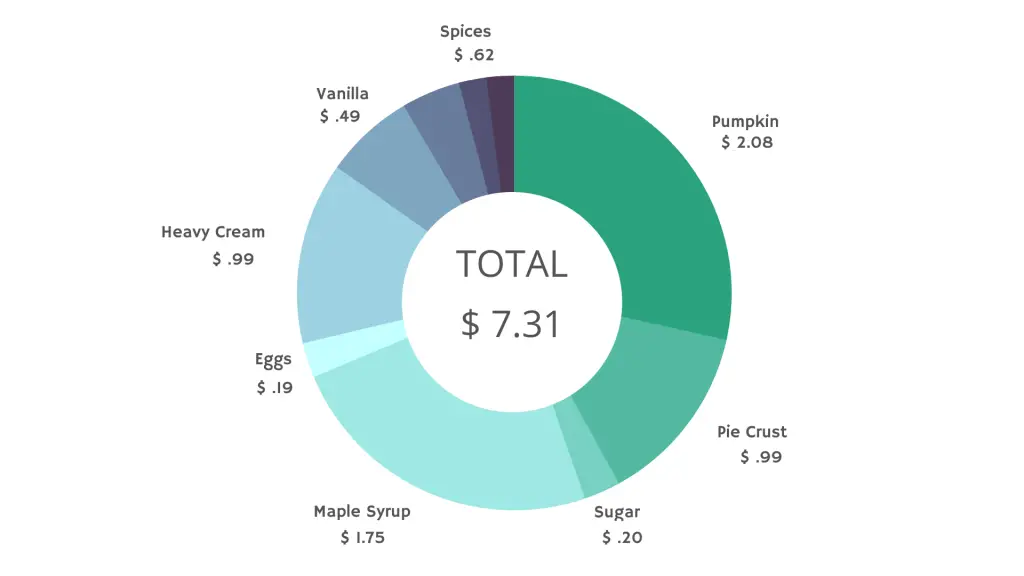 I hope you try and love this pumpkin pie. Enjoy!
Other Fall Favorites You May Enjoy!
Best Pumpkin Pie – Pie Filled With Your Favorite Pumpkin Pie Spices
Course: Baking, Christmas Recipes, Desserts, Fall Recipes, Seasonal, Thanksgiving, Thanksgiving, Winter Recipes
Difficulty: Easy
Cooking time
1
hour 
55
minutes
An easy and delicious pumpkin spice filled pumpkin pie
Ingredients
1 3/4 cups pumpkin puree (1 can)

1 pie crust

1/2 cup sugar

1/2 cup maple syrup

2 eggs lightly beaten

1 cup heavy cream

1 tsp vanilla extract

1/4 tsp salt

1 tsp cinnamon

1/4 tsp nutmeg

1/4 tsp cloves
Directions
Preheat the oven to 425
Combine spices and sugar in a bowl
In a separate bowl mix pumpkin puree, maple syrup, and vanilla
Stir in eggs, then spice mixture, then cream to well combined
Pour into pie crust
Bake for 15 minutes
Reduce the oven temperature to 350 and bake until the center is set about 90 minutes
Cool on a wire rack