Jump to Recipe
This isn't your standard green bean side dish for your Holiday Dinner. I have nothing against that creamy casserole with crispy onion topping. With all of the heavy dishes usually served during the holiday time, a lighter vegetarian side dish is welcoming. These roasted green beans with garlic herb butter are the perfect replacement.
I've always been a green bean fan. As a kid, I remember eating the french style green beans straight out of the can. Has anyone else ever done that? I haven't had canned beans in years. The fresh vibrant green beans can't be beaten.
Roasting Green Beans
Green Beans can be prepared in many ways. Steamed, Grilled, Boiled Pickled, and roasted to name some.
I prefer roasted beans. It's an easy hands-off way to cook the perfect green beans. When steamed or boiled you need to watch them very closely so you don't overcook your beans.
When roasted the beans are cooked to the perfect tenderness and are infused with the flavors you've added while roasting.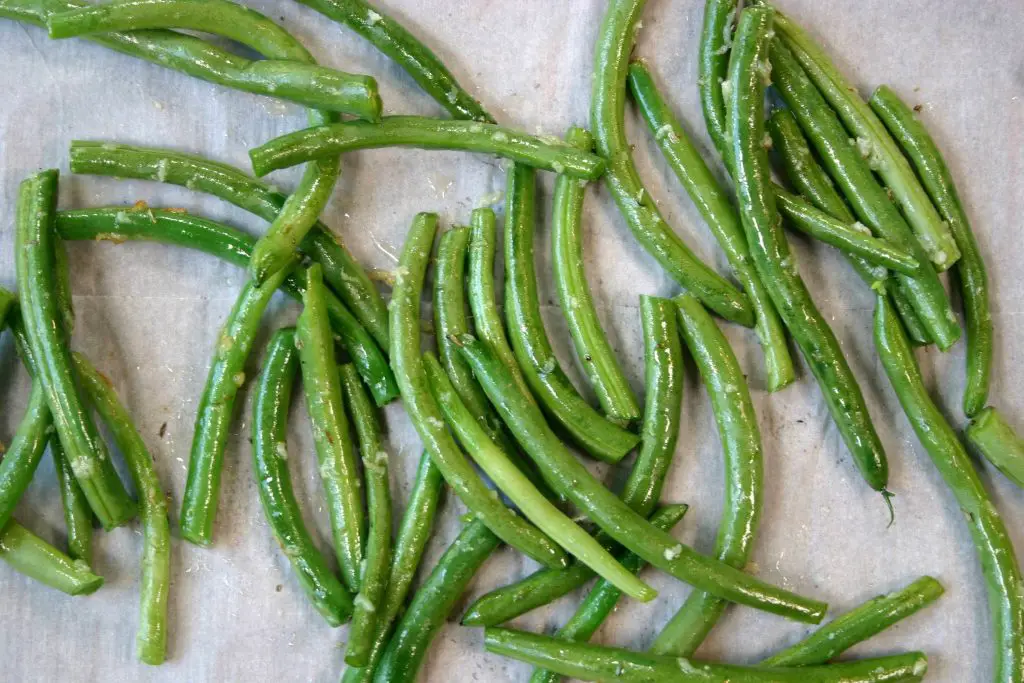 Seasoning Your Green Beans
This recipe for roasted green beans uses a delicious combination of butter, herbs, and seasonings that are perfect for the fall season. The flavors go well with the dishes served at any Holiday Meal.
Butter – add the perfect creamy richness to this dish
Thyme- the perfect fall herb to highlight this time of year
Garlic- who doesn't love garlic
Salt- a must-have for perfect seasoning
Pepper- add a little or as much as you like for the perfect touch of peppery heat
What To Make With Green Beans
The roasted green beans with garlic herbed butter are a great vegetarian side dish as is. If you happen to have leftovers or want to make extra to stretch into a second dish, here are some ideas.
Use the roasted green beans in a nicoise style salad
Make a green bean and potato salad
Make a three-bean salad
Create a salad with green beans, tomatoes, mozzarella balls, olive oil, and balsamic vinegar
Add pasta to the above dish for a nice pasta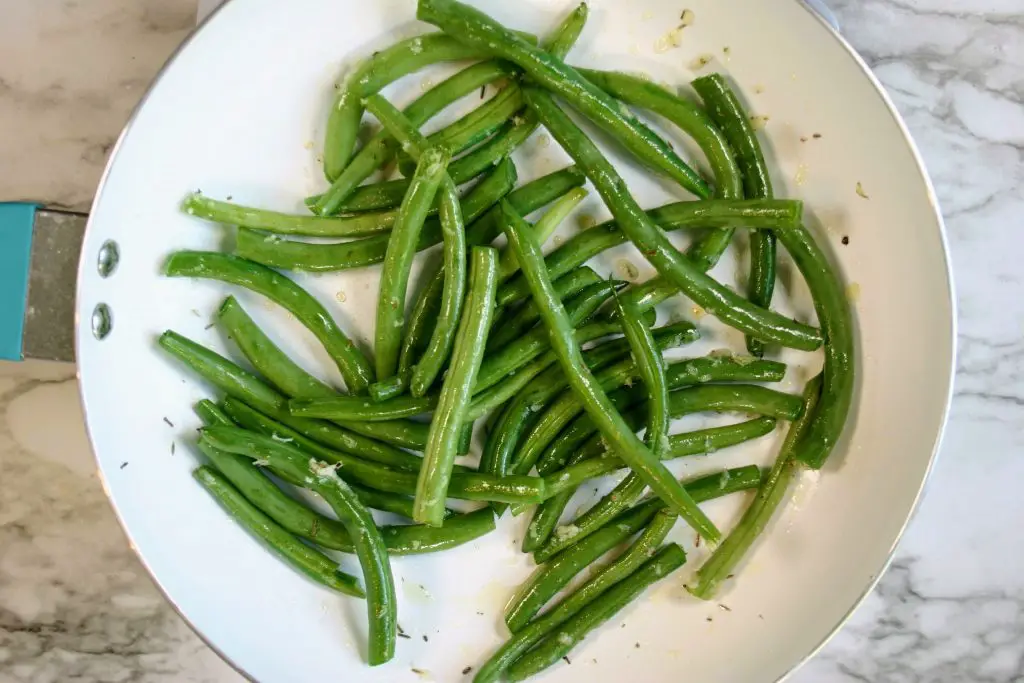 Fun Green Bean Facts
Green beans are one of the most popular garden plants in the world. They are the third most popular just behind tomatoes and peppers.
Every last Saturday in July, the city of Blairsville, Georgia, honors the green bean with the Green Bean Festival. The celebration includes cooking contests, canning plant tours, beauty pageants, and other activities that star the vegetable.
Health Benefits Of Eating Green Beans
Green beans have high fiber content and are an easy source of vitamins A, C, K, B6, and folic acid. Where minerals are concerned green beans are a good source of calcium, silicon, iron, manganese, potassium, and copper.
Green Beans may reduce your risk of heart disease due to their high levels of flavinoids.
Green beans are one of the vegetables known to have a definitive hypoglycemic influence on patients with diabetes.
Due to the high levels of anti-oxidants, green beans can help boost your immune system.
Green Beans Serving Suggestions
These green beans are a perfect side dish for a Vegetarian Holiday Meal.
Roasted Green Bean Price Breakdown
Pantry Ingredients
2 tbs Butter
Dried Thyme
Salt
Pepper
Fresh Ingredients
2 lbs Green Beans
5 Garlic Cloves
Total Price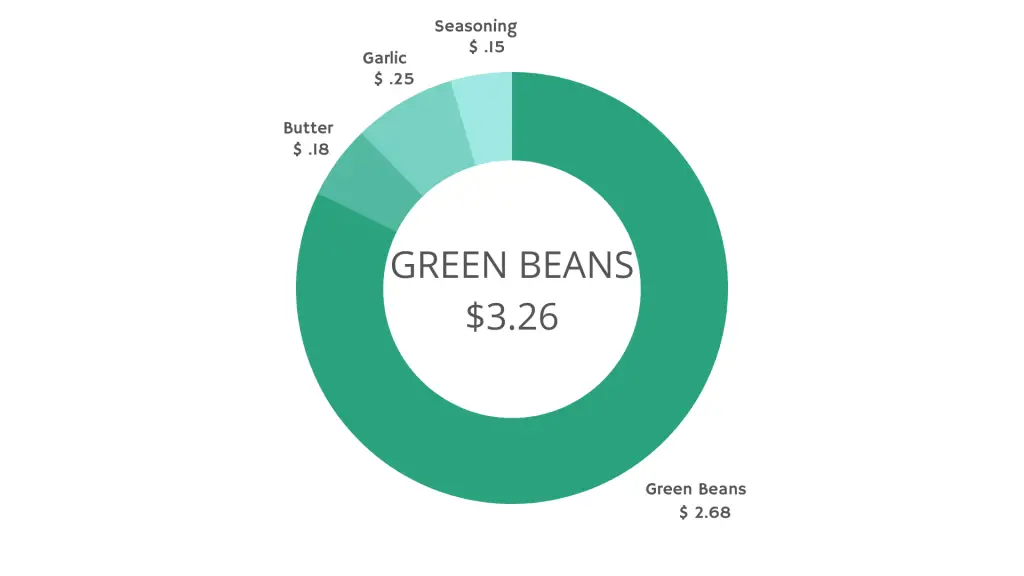 For 8 servings this recipe totals $3.26.
The per serving price is $ .41.
I hope you give these Roasted Green Beans a try.
Roasted Green Beans With Garlic Herb Butter- Vegetarian Side Dish
Course: Sides
Difficulty: Easy
Perfectly roasted green beans with garlic herb butter. A great Thanksgiving Side Dish.
Ingredients
2 lbs Green Beans

2 tbs Butter

5 Garlic Cloves

Dried Thyme

Salt

Pepper
Directions
Preheat oven to 400
Melt butter
Add garlic and thyme to the butter, cook on low until the garlic is fragrent. Be careful to not burn the garlic
Toss the green beans with the garlic herb butter
Pour beans onto a lined baking sheet
Roast the beans under tender and caramelized about 15-30 minutes