Chipotle is known for its quick fresh food, what does Chipotle offer for vegetarians.
Chipotle offers vegetarians a wide variety of options from burritos, tacos, quesadillas, and salads. Chipotles build your own style of ordering allows a vegetarian to select from a wide range of toppings and fillings including tofu-based sofritas, and salsas.
Can Vegetarians Eat At Chipotle
Vegetarians have many different customizable options to choose from to really make their meals their own.
How Easy Is It To Order As A Vegetarian At Chipotle
Ordering as a vegetarian at Chipotle is as easy as it can get whether it's online or in-store.
When ordering online you click on the menu item you wish to customize and select all of your fillings and toppings from their large selection.
While in-store you have a large menu board listing all of the options available as well as many of the ingredients laid out in front of you.
Does Chipotle Have A Vegetarian Menu
Chipotle does not have a separate vegetarian menu. All of its menu items are easily customized during the ordering process to your liking.
Vegetarian Options At Chipotle
Chipotle offers a large variety of customizable vegetarian options including.
Burritos
Burrito Bowls
Tacos
Quesadillas
Lifestyle Bowls
Salads
Chips and Dip
Best Vegetarian Options At Chipotle
You can't go wrong with any of the vegetarian options at Chipotle. My favorites are the burritos and chips with guacamole or Queso Blanco.
Does Chipotle Have Vegetarian Burritos
Chipotle offers a build your own burrito option that is full of delicious vegetarian choices.
What Vegetarian Fillings Are Available For Chipotle Burritos
Sofritas
Guacamole
White Rice
Brown Rice
Black Beans
Pinto Beans
Fresh Tomato Salsa
Roasted Chili Corn Salsa
Tomatillo-Green Chili Salsa
Tomatillo-Red Chili Salsa
Fajita Veggies
Romaine Lettuce
Cheese
Queso Blanco
Sour Cream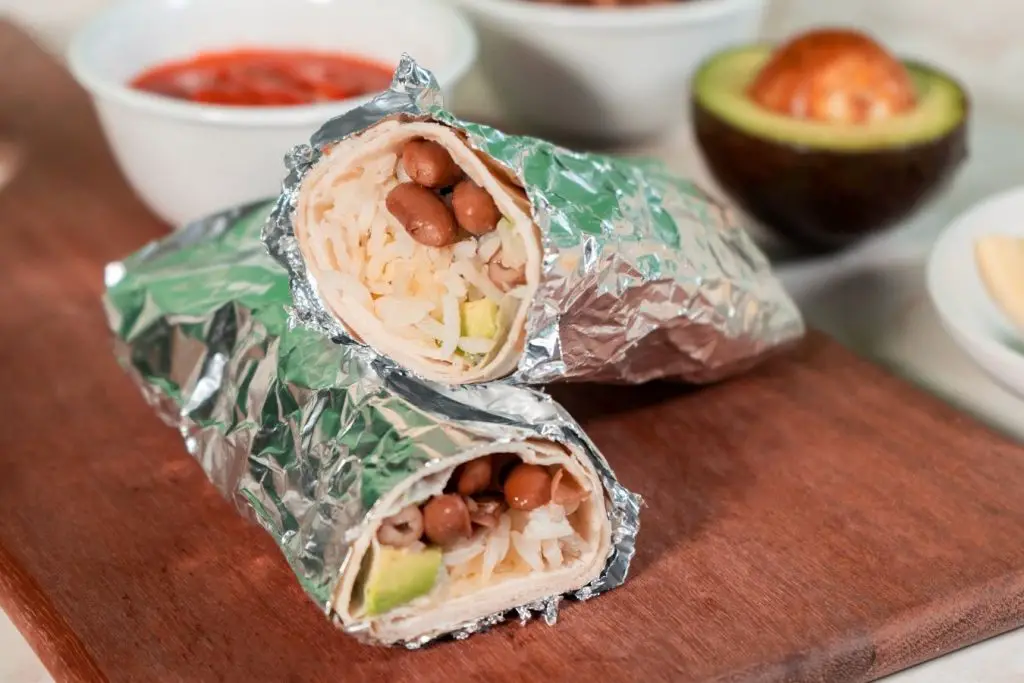 Does Chipotle Have Vegetarian Burrito Bowls
Chipotle offers a build your own vegetarian burrito bowl.
What's Included In Chipotles Vegetarian Burrito Bowls
You can build your burrito bowl with a base of white or brown rice adding in as many of the same toppings offered for burritos.
Does Chipotle Have Vegetarian Lifestyle Bowls
Chipotle offers two vegetarian-friendly Lifestyle bowls the Vegan Bowl and Vegetarian Bowl.
What Is In Chipotles Vegan Bowl
Chipotles Vegan Bowl contains brown rice, sofritas, black beans, fresh tomato salsa, roasted chili corn salsa, and shredded romaine lettuce.
What Is In Chipotles Vegetarian Bowl
Chipotles Vegetarian Bowl contains a bed of supergreens lettuce blend, brown rice, black beans, fajitas veggies, fresh tomato salsa, and guacamole.
Does Chipotle Have Vegetarian Quesadillas
Chipotle offers a build your own vegetarian quesadillas with your choice of fillings and three sides.
Quesadilla Fillings And Sides
Fajita Veggies
Sofritas
Cheese
Salsas
Sour Cream
Guacamole
White Rice
Brown Rice
Black Beans
Pinto Beans
Queso Blanco
Does Chipotle Have Vegetarian Salads
A salad may sound like an obvious option for a vegetarian but, a filling salad that can be eaten as a meal can be hard to find.
At Chipotle you are able to build your own salad using many different ingredients including their signature sofritas and chipotle-honey vinegarette.
Your custom salad at Chipotle starts with a bed of fresh supergreens with your choice of toppings from sofritas, beans, rice, salsas, and cheese.
Does Chipotle Have Vegetarian Tacos
Tacos are the quintessential food item for any tex-mex style meal.
At Chipotle your vegetarian taco starts with your choice of a soft or crunchy taco shell.
Next, add some sofritas and or beans for a protein-filled base.
Top with crunchy romaine lettuce, cheese, sour cream, guacamole, and a variety of delicious salsas.
If you are interested you can even add rice or fajita veggies to your tacos.
Does Chipotle Have Vegetarian Sides
Chipotle offers a tasty variety of chips and dips for a side or snack.
Chips and Guacamole
Chips and Queso Blanco
Chips and Fresh Tomato Salsa
Chips and Tomatillo-Red Chili Salsa
Chips and Tomatillo-Green Chili Salsa
Chips and Roasted Corn Chili Salsa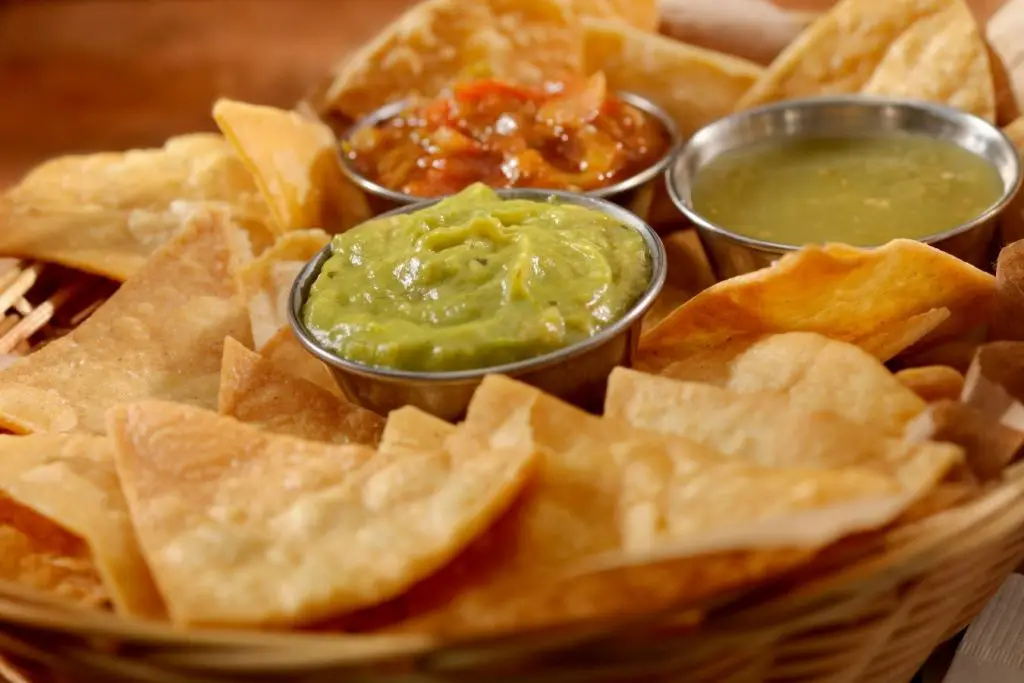 Does Chipotle Have Vegetarian Kids Meals
Chipotle offers two vegetarian kids meals on its menu a build your own taco or quesadilla.
What's Included With A Kids Taco Meal At Chipotle
You can build your own taco meal including a choice of soft or crunchy taco shell.
Sofritas
Queso Blanco
Guacamole
Brown Rice
White Rice
Black Beans
Pinto Beans
Fajita Veggies
Salsas
Sour Cream
Cheese
Each kid's taco meal comes with two tacos a choice of a side of chips or fruit and a drink.
What Is Included With The Kids Quesadillas At Chipotle
The Chipotles kid's quesadilla comes with a choice of plain cheese or cheese with sofritas.
You may choose three additional sides including rice, beans, chips, and fruit.
All served with your child's drink of choice.
Does Chipotle Have Vegetarian Desserts
At this point in time, Chipotle doesn't offer any desserts on its menu.
Is Chipotle Sofritas Vegetarian
Chipotle Sofritas is a delicious plant-based filling option that is a wonderful replacement for meat.
What Is Chipotle Sofritas Made Of
Chipotle Sofritas is made from organic tofu that is braised in roasted poblanos, chipotle peppers, and a blend of customized spices.
Are Chipotle Beans Vegetarian
Just because beans are known for being a vegetarian food doesn't always mean they are prepared without animal products. Luckily, both the black beans and pinto beans at Chipotle are vegetarian.
Is The Cheese At Chipotle Vegetarian
The cheese offered at Chipotle is vegetarian-friendly.
Chiptole uses cheese that is made with vegetarian rennet instead of animal-derived rennet.
What Are Chipotle Lifestyle Bowls
Chipotle Lifestyle Bowls were created specifically for those following certain diets like Whole 30, Keto, and Paleo.
Ordering a lifestyle bowl takes the guesswork out of ordering a meal for those following strict diets.
Each bowl is perfectly formulated to follow the specific diet guidelines.
What Is The Difference Between A Lifestyle Bowl And A Salad
Some of The Lifestyle bowls also contain rice whereas none of the Chipotle salads have rice.
What Is The Difference Between A Lifestyle Bowl And A Burrito Bowl
Some of the Lifestyle, bowls start with a bed of lettuce or lettuce and rice, whereas the burrito bowl is a full bed of rice.
Does Chipotle Have A Secret Menu
Chiptole has a secret menu that includes some popular vegetarian-friendly items.
Quesatiro- this is a burrito made out of a quesadilla for the shell.
Nachos- Chips with cheese and all of your favorite toppings
The Three-Pointer- A burrito with only three ingredients. This is usually at a smaller price point than the standard burrito.
Double Decker Taco- Two layers of taco goodness, an outside taco shell filled with cheese with your filled taco put inside.
Double-Wrapped Burrito- your standard burrito wrapped in an extra tortilla.
Will Chipotle Offer More Vegetarian Items In The Future
Tex-Mex food is generally a vegetarian staple, we can't forget about the classic beans and rice.
Chipotle is very aware of its customer's dietary preferences and the need for fresh delicious food options.
I can foresee Chipotle offering more vegetarian options in the future and remaining one of the best places for a quick and flavorful vegetarian meal.
Final Thoughts
Chipotle is a staple for any vegetarian that needs a quick meal on the run.
One of the best things about Chipotle is its dedication to clean and fresh ingredients without a lot of additives.
Being a vegetarian you can often enter a restaurant knowing that you will have limited options, not at Chipotle.
At Chipotle, you can create your own meal according to your wishes at the moment.
Other Articles You May Enjoy!