I'm pretty sure we all have that childhood memory of dipping a crispy warm chicken nugget into a delicious sauce. When I became a vegetarian I thought that experience was over. Luckily, we now have many different plant-based nuggets available but, what are plant-based nuggets made of?
Plant-Based nuggets are made of a mixture of water, plant proteins like soy isolate or vital wheat gluten, breading, seasonings and oils. Some nuggets are soy and GMO-free while others are not.
In this article I provide the main ingredients for 12 plant-based nugget brands.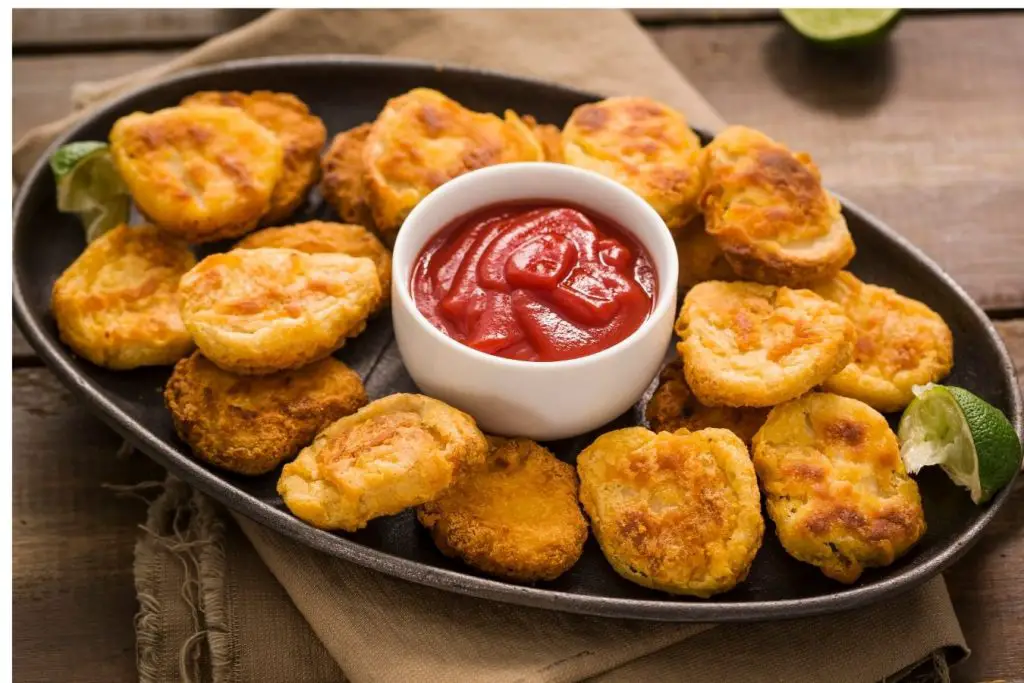 What Are Plant-Based Nuggets Made Of
Plant-based nuggets are made of a combination of water, plant proteins, breading, seasonings and oils.
What Protein Is Used In Plant-Based Nuggets
There are a some common ingredients that are used in plant-based nuggets as the protein source.
Soy protein isolate
Pea protein isolate
Vital wheat gluten
Wheat protein isolate
What Brands Make Plant-Based Nuggets
I can remember when there was only Morning Star Farms as the lone ranger in the plant-based nugget world. Luckily now there are many options and brands to choose from.
Some Plant-Based nugget brands are.
Raised & Rooted (Tyson)
Nuggs/Simulate
Field Roast
Morning Star Farms
Incogmeato
Gardein
Boca
Meatless Farm
Dr. Praeger's
Yummy Meatless
Alpha Foods
Earth's Best
What Are Raised & Rooted Nuggets Made Of
Raised & Rooted indicates that their plant-based nuggets are made from "seasoned plant protein".
What is seasoned plant protein? The main ingredients in Raised & Rooted nuggets are.
Pea Protein Isolate
Oat Fiber
Vital Wheat Gluten
Seasonings (including "natural flavors" and onion juice)
Maltodextrin and cornflour (GMO corn products)
Canola and vegetable oils (GMO)
Wheat flour
These are just a handful of the long list of ingredients in these nuggets. I've linked to their website for the full list.
The nuggets are advertised as being soy-free although on the very bottom of the ingredient list it's noted that they can be fried in soybean oil. That's not ideal for a person who has a sensitivity or allergy to soy.
I would personally stay away from these nuggets. The Raised & Rooted brand is owned by Tyson.
What Are Nuggs From Simulate Chicken Made Of
I recently discovered Nuggs or Simulate. They are a company that has a marketing team with a sense of humor. Their tag line is "The Tesla Of Chicken", and when you look at their nutrition facts is says " Kills You Slower".
What's inside of these Nuggs?
Textured wheat protein
Breadcrumbs
Corn flour
Soybean oil
Soy protein concentrate
Wheat flour
Wheat protein isolate
These nuggets unfortunately contain soy and GMO ingredients. I hope they can improve on that in the future because the texture and flavor of these nuggets are top-notch.
These nuggets remind me of McDonald's nuggets.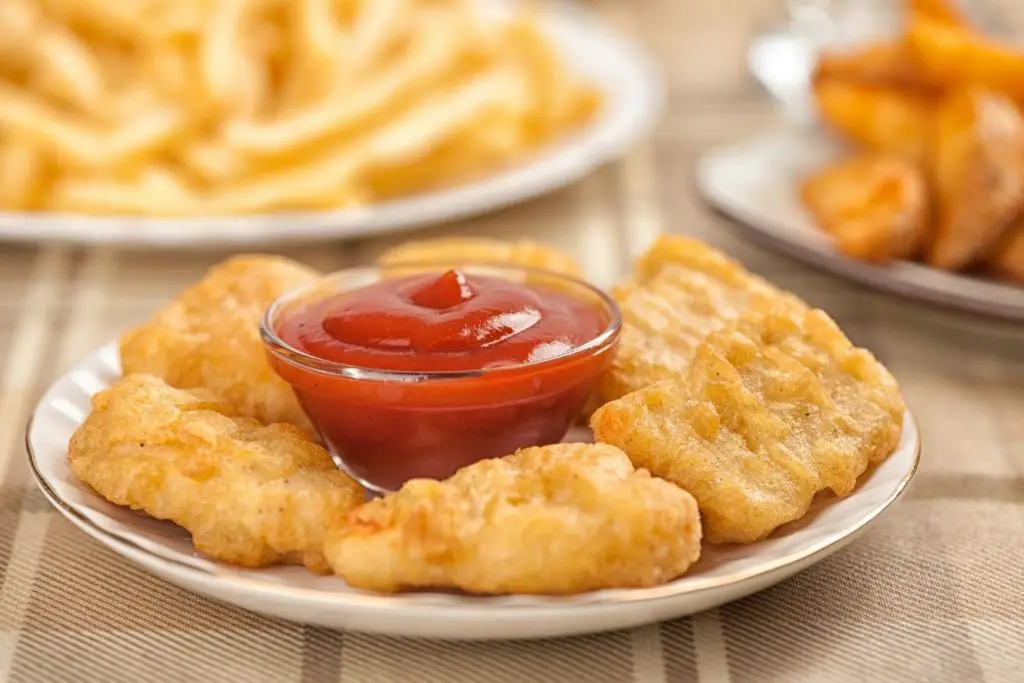 What Are Field Roast Nuggets Made Of
Field Roast makes some delicious vegetarian products. We are big fans of their sausages.
These would be one of my favorite nugget options.
Let's look at the main ingredients in Field Roast Nuggets.
Expeller pressed canola oil
Pea protein
Wheat gluten
Fava bean protein isolate
Seasonings (including "flavor")
Wheat flour
Wheat starch
Field Roast is a NON-GMO Verified company, which means you can guarantee that none of their products contain GMO ingredients.
What Are Morningstar Farms Nuggets Made Of
For a long time Morningstar Farms was the only brand making a plant-based or vegetarian "chicken" nugget.
Let's take a peak at what's inside these nuggets.
Wheat flour
Soy protein concentrate
Vegetable oil
Soy protein isolate
Yellow cornflour
There are many more ingredients in these classic nuggets but, the handful I listed above are enough to make me pass on these nuggets. These nuggets contain ingredients that are heavily sprayed with pesticides and are GMO.
There are better plant-based nuggets out there in my opinion.
What Are Incogmeato Nuggets Made Of
Incogmeato is a brand branch of Morningstar Farms which is all owned by Kellogg's.
What ingredients are in Incogmeato Nuggets.
Wheat flour
Soy protien concentrate
Vegetable oil
Wheat gluten
Corn flour
The product is labeled as Non-GMO soy. I have to wonder then again about the vegetable oils and corn ingredients which are known to be GMO products.
What Are Gardein Nuggets Made Of
Gardein has been a household name in the plant-based "faux meat" for years.
What are the main ingredients in Gardein Nuggets?
Enriched wheat flour
Vital wheat gluten
Canola oil
Pea protein isolate
Soy protein isolate
There are many more ingredients but, these are your main players.
Some of Gardein's products are labeled as GMO Verified but, I'm not seeing this particular product as a NON-GMO product.
What Are Meatless Farm Chicken Nuggets Made Of
I've never heard of Meatless Farm Chicken Nuggets before doing the research for this article.
What are the main ingredients in Meatless Farm Chicken Nuggets?
Wheat protein
"Corn Flakes"
Sunflower Oil
Vital Wheat Gluten
Wheat Flour
Pea Starch
Pea Protein
These nuggets seem to be wheat heavy and can contain GMO ingredients.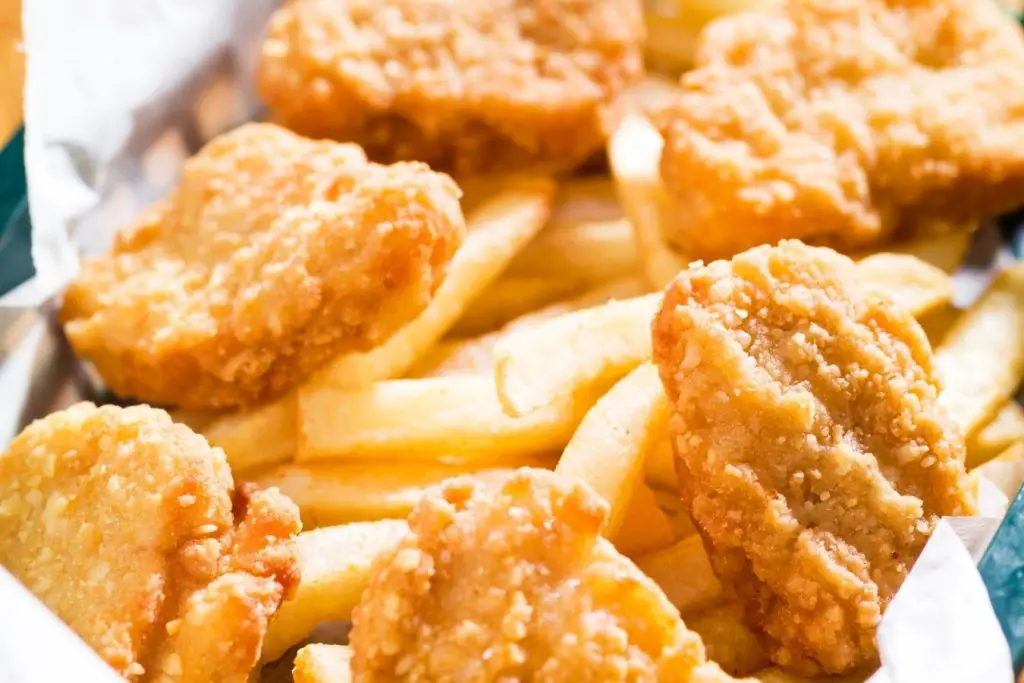 What Are Boca Nuggets Made From
Boca is a name brand that has been around for a while and is known for their veggie burgers.
What ingredients can be found in Boca Nuggets?
Wheat flour
Soy protein isolate
Soy protien concentrate
Corn oil
Wheat gluten
The label indicated that the soy is NON GMO but, i'm unsure if the corn products in the nuggets are also NON-GMO.
What Are Dr. Praeger's Nuggets Made Of
Dr. Praeger's advertises themselves as being purely sensible foods.
Let's look at what's inside Dr. Prager's nuggets.
Texturized pea protein
Rice coating (includes raisin juice concentrate)
Corn starch
Avacado oil
I have to say I'm impressed with the ingredients in these nuggets. Dr. Prager's products are NON-GMO verified, Gluten-Free, and Soy Free. All big pluses as far as I am concerned.
What Are Yummy Meatless Nuggets Made Of
It looks like Purdue wants in on the plant-based craze. They've started offering a line of products that are made without meat.
What's inside Yummy Meatless Nuggets?
Wheat flour
Textured soy protein concentrate
Yellow cornflour
Wheat gluten
Canola oil
These are loaded with GMO ingredients that are heavily sprayed with pesticides. It's also a no for me because I personally don't want to support a chicken company.
What Are Alpha Foods Nuggets Made Of
Alpha Nuggets gets an award for a clever slogan trying to get you to give them your email address. They say "If plants can taste like meat, then you can give us your real email, not the one you used in high school".
What can we find inside Alpha Nuggets?
Soy protein concentrate
Textured wheat protein
Canola oil
You can visit their website for a complete list of ingredients but, these are the main players. Alpha Nuggets are GMO Verified to not contain any GMO ingredients.
What Are Earth's Best Nuggets Made Of
I was surprised to see that Earth's Best (the same brand that makes baby food) is now making plant-based nuggets advertised for kids.
Let's take a peak at what's inside Earth's Best nuggets.
Whole wheat bread crumbs
Canola oil
Textured soy protein
Textured wheat protein
Vital wheat Gluten
Soy protein isolate
Corn flour
The label indicates that the nuggets are NON-GMO Verified. I do have to say that I don't love the idea of feeding children a product that contains soy.
Where Can I Buy Plant-Based Nuggets
Plant-Based nuggets can be found in most grocery store's. They will be located in the frozen food section.
If you are looking for a specific brand you can visit their website.
What Restaurants Have Plant-Based Nuggets
We are still in the early stages of restaurants embracing plant-based foods.
At this point in time, KFC has been testing out plant-based nuggets in some restaurants that are being made by the Beyond meat company.
Only time will tell if this expands to more locations or it other restaurants jump on board.
Final Thoughts
There are many different plant-based nugget options offered today for you to get that classic childhood food fix.
You do need to check the ingredients closely and make sure that you aren't consuming any ingredients that you like to avoid or could be sensitive to.
I wouldn't base your entire diet on plant-based nuggets or plant-based "meats" to begin with but, it's great to have some to choose from when you have a craving.
I love dipping nuggets into honey or sweet and sour sauce. What's your favorite dipping sauce for nuggets?
Other Articles You May Enjoy!