Jump to Recipe
Don't you think snack boards are so much fun? I love the visual appeal of such a pretty Halloween Snack Board filled with treats. Having a snack board can turn any day into a party.
As fun as snack boards can be they can sometimes be expensive when you add up all of the ingredients you need to buy. I wanted to make this Halloween Snack Board easy and affordable so it can be made to make any day a fun celebration.
It would be perfect for a family movie night filled with Halloween movies. I see you Hocus Pocus! The snack board would also be great for a party or to snack on before Trick or Treating.
Halloween Snack Board Ingredients
Since Halloween is the beginning of the candy and sweets season I wanted this Halloween Snack Board to have mostly healthy savory and sweet snacks.
Let's dig into the Halloween treats.
Popcorn
Black Olives
Blue Corn Chips
Orange Pepper Slices
Avocado/Guacamole
Mandarin Oranges
Mozzarella Cheese Sticks
Candy Corn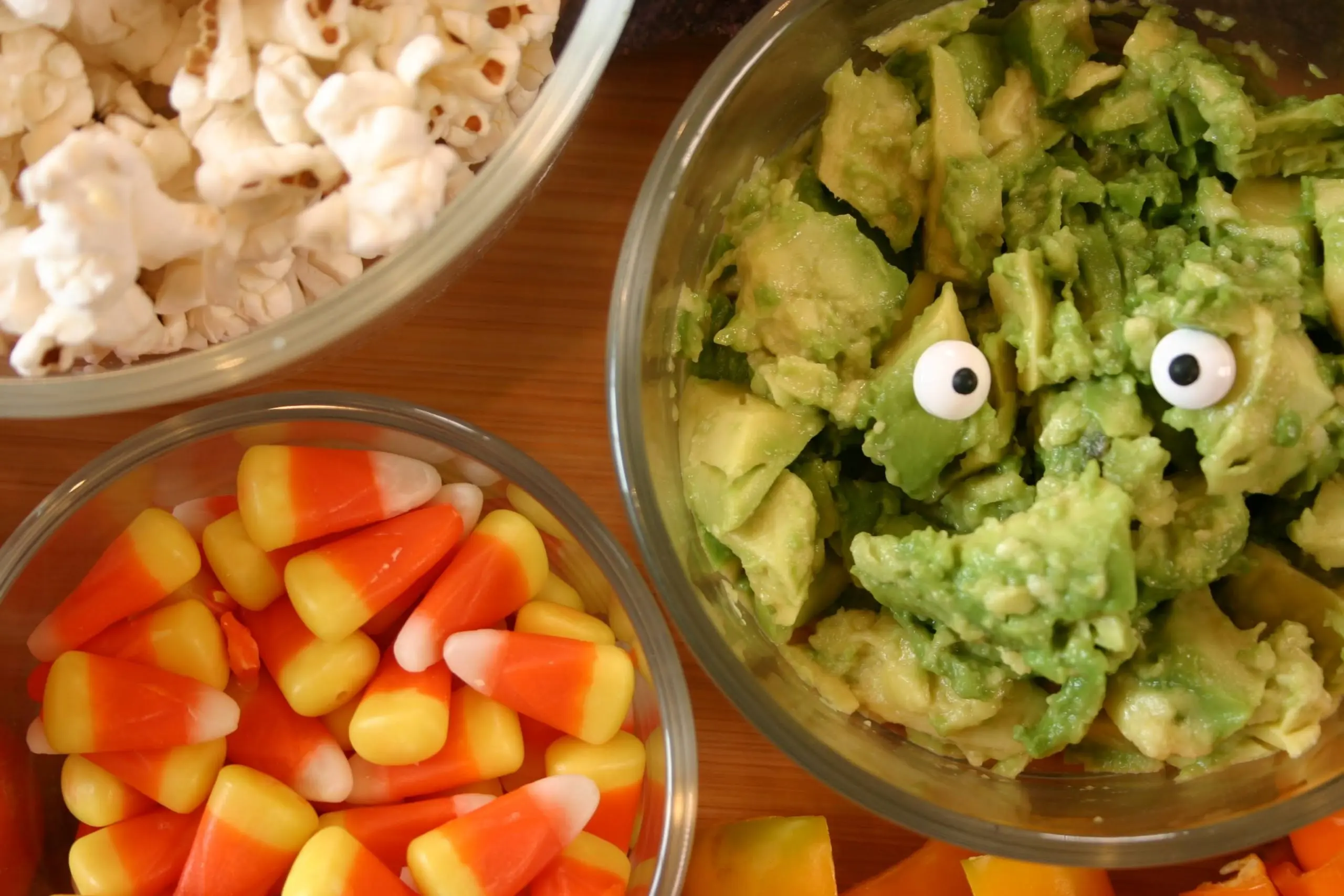 Halloween Snack Board Price Breakdown
If you are familiar with how I calculate my price breakdowns you know that I use the same method used in commercial food services where you add the cost of each ingredient used in the exact amount used.
I wanted to breakdown the prices of this Snack Board as if you are going to the store needing to buy all of the ingredients for the snack board.
Popcorn – $ 1.84
Black Olives – $ 1.53
Blue Corn Chips – $ 1.98
Orange Pepper Slices – $ 1.73
Avocado/Guacamole – $ 1.36
Mandarin Oranges – $ 1.64
Mozzerella Cheese Sticks – $ 2.84
Candy Corn $ 1.98
Total Price
The total price for this snack board is $ 14.90.
You would be able to refill this snack board many times and would be able to have some leftovers for snacks during the week.
More Halloween Recipes You May Enjoy!
Halloween Snack Board
Course: Snacks
Difficulty: Easy
Fun, Easy, and Budget Friendly Halloween Snack Board
Ingredients
6 oz can of Black Olives

Bag of Mandarin Oranges

8 oz bag of Blue Corn Chips

2 Avocados

1 Package Mozzarella Cheese Sticks

1 Orange Pepper

1 Bag of Popcorn Kernels

1 Bag of Candy Corn
Directions
Pop popcorn in a popcorn maker. If you don't have a popcorn maker you can buy microwave popcorn or a bag of already popped popcorn
Slice the pepper in to slices
Drain the can of olives and put them into a bowl
Cut and mash the avocados – you can add salt and pepper to taste. Another option would be to buy premade guacamole
Draw cute ghost faces onto the mozzarella sticks with a sharpie marker
Pour the candy into bowl
Arrange the snacks on a cutting board and enjoy!