Hi-Chews are an extremely popular chewy candy that originates from Japan that comes in a variety of fruit flavors but, are Hi-Chews vegan or vegetarian?
Are Hi-Chews Vegan
Hi-Chews candies are not vegan due to their containing a variety of ingredients that are sourced from animals.
Are Hi-Chews Vegetarian
Unfortunately, Hi-Chews candies are not vegetarian since they contain ingredients that are not vegetarian-friendly.
Do Hi-Chews Contain Gelatin
Unfortunately, Hi-Chews contain gelatin which is an animal-derived ingredient that is not suitable for both vegans and vegetarians to consume.
Why Do Hi-Chews Contain Gelatin
Hi-Chews contain gelatin as a stabilizer and a thicker that contributes to the texture and overall feel of the candy.
Do Hi-Chews Need To Contain Gelatin
Luckily, there are now many alternatives to gelatin that can be used in candy to achieve similar results but, unfortunately, HI-Chews has not switched to a vegan or vegetarian option.
Can Vegetarians Eat Gelatin? (Explained)
Do Hi-Chews Contain Dairy
The majority of Hi-Chews do not contain dairy but, you need to look closely you may find some Hi-Chew flavors containing dairy in the form of yogurt.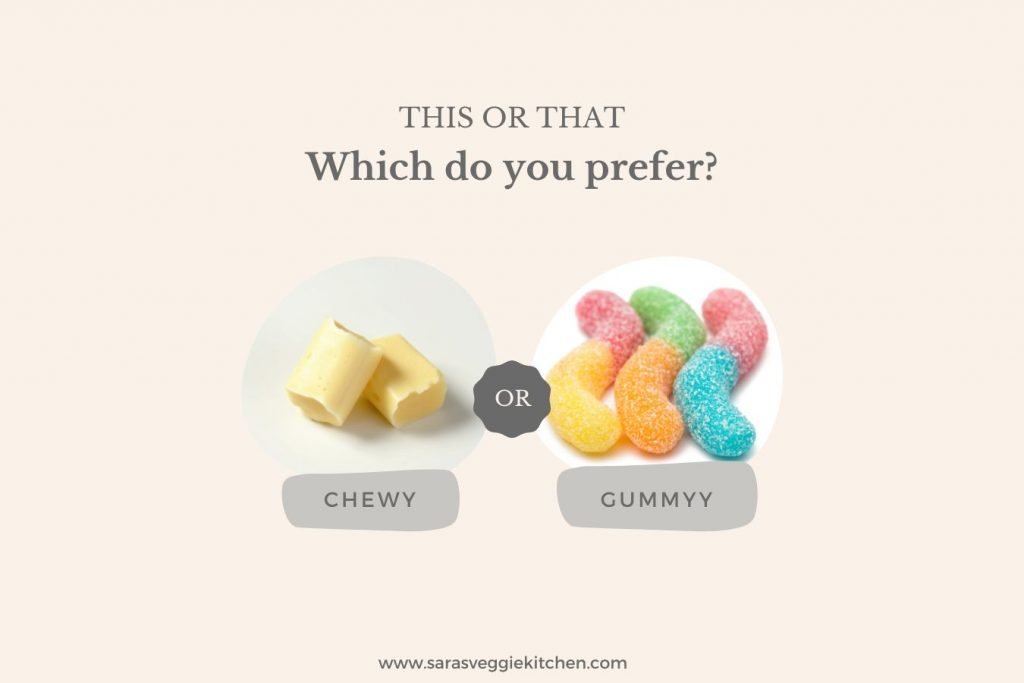 Do Hi-Chews Contain Pork
The gelatin that is in Hi-Chews candy may be created from either pigs or cows, there is no way to determine exactly which animal the gelatin came from.
Do Hi-Chews Contain Beef
Hi-Chews candy may contain beef gelatin or bone char from cattle.
Are Sour Patch Kids Vegan Or Vegetarian?
What Are The Ingredients In Hi-Chews
The ingredients found in Hi-Chews candy will vary from flavor to flavor.
The most popular flavor of Hi-Chews is strawberry.
These are the ingredients you will find in strawberry Hi-Chews.
GLUCOSE SYRUP, SUGAR, VEGETABLE OIL (HYDROGENATED PALM KERNEL OIL, PALM KERNEL OIL), LESS THAN 2% OF GELATIN, NATURAL AND ARTIFICIAL FLAVORS, MALIC ACID, CITRIC ACID, STRAWBERRY JUICE CONCENTRATE, SUCROSE FATTY ACID ESTERS, SORBITAN MONOSTEARATE, PURPLE CARROT JUICE (COLOR), SOY LECITHIN. CONTAINS SOYBEANS
What Non-Vegan Ingredients Are In Hi-Chews
Not all of these non-vegan ingredients are found in every H-_Chew variety but, every Hi-Chew candy will contain at least gelatin.
Gelatin
Carmine
Dairy
Steric Acid
Honey
What Is Carmine
Carmine is a food coloring that is made from crushed-up insect shells.
What Is Steric Acid
Steric Acid is a lone chain fatty acid that is made from various animal and plant fats.
It can be hard to determine where the steric acid is sourced from.
What Non-Vegetarian Ingredients Are In Hi-Chews
You will find many of the same non-vegetarian ingredients in Hi-Chews that make the product non-vegan as well.
Gelatin
Carmine
Dairy (depending on your diet)
Steric Acid
Are There Any Other Questionable Ingredients Found In Hi-Chews
Hydrogenated Palm Kernel Oil
Sugar
What Is Hydrogentated Palm Kernel Oil Bad
Hydrogenated Palm Kernel Oil is a negative ingredient for many reasons including the connection to harming the rainforests and natural species of the environment.
Hydrogenated oils have been proven to be very bad for your health increasing your chances of heart disease and cancer.
Why Is Sugar A Questionable Ingredient
Sugar is a questionable ingredient due to a variety of reasons.
Highly sprayed with pesticides
Genetically modified
Treated with bone char (bone char from cows is often used to treat and whiten sugar)
Vegan Alternatives To Hi-Chews
Final Thoughts
Hi-Chews may be extremely popular but, I can say that I have never tried them since I heard of them after becoming a vegetarian.
I picture them being similar to Starburst or Mamba candy.
Luckily, many companies are now making vegan-friendly candy that is made with animal-free ingredients as well as higher quality ingredients that isn't as damaging to your health.
Other Articles You May Enjoy!