Jump to Recipe
Christmas Morning is the most magical morning of the year. Having an easy Christmas Breakfast to fill everyone's growling tummies through the excitement is essential.
When creating this easy Christmas Breakfast menu I wanted to include something savory, sweet, and fresh.
I also wanted to make sure most of the prep work could be done ahead of time so we all can enjoy the Christmas Morning Excitement.
Easy Christmas Breakfast Menu
Breakfast Tacos
Cinnamon Roll Bake
Christmas Fruit Salad
How To Make A Cheap And Easy Christmas Breakfast
How To Make Breakfast Tacos
Make the scrambled eggs. You could also make fried eggs if you prefer
Prep any toppings you want to have
Assemble your tacos and enjoy!
How To Make Scrambled Eggs Ahead Of Time
Turn on your burner to medium-low
Add your butter to the frying pan
Crack the eggs into a bowl and whisk
Pour in the eggs and let them sit until the edges start to lift from the pan
Season the eggs when they have almost set
Turn off the burner and let them cool in the pan for a moment
Remove the eggs from the pan and let them cool completely
Store in an airtight container
Reheat in the microwave for up to a minute
What Tortillas Should I Use For Breakfast Tacos?
You can use any tortillas that you desire. My go-to for this recipe is flour tortillas.
Flour Tortillas
Heat the tortillas in the microwave by placing five on a plate with a damp paper towel. Microwave for 30 seconds until warm.
Corn Tortillas
You can also heat the corn tortillas in the same way as you would for flour tortillas
Crunchy Taco Shells
Crunchy shells are also a good option. These are best toasted in the oven.
Toppings For Breakfast Tacos
Any toppings that you like to enjoy on regular tacos are perfect for breakfast tacos.
Cheese – shredded cheddar, Monterey jack, or cotija are great options
Sour Cream – a dollop of sour cream adds some creaminess
Salsa- select any that you like or make your own
Salsa Verde – one of my favorite toppings
Pico di Gio – a fresh salsa option
Diced onion – A nice little bite of onion is yummy
Tomatoes – If you didn't have pico di gio, diced tomatoes are a great topping
Black Olives – My kids love black olives. If you have olive lovers they make a great topping
How To Make A Cinnamon Roll Casserole
Preheat the oven to 350
Coat the bottom of a 9 x 13 baking dish with butter
Open the cinnamon rolls and set the frosting aside
Cut the cinnamon rolls into four equal pieces
Put the cinnamon roll pieces evenly into the 9 x 13 baking dish. Spread out into one layer of roll pieces
Mix together milk, eggs, cinnamon, and vanilla
Pour over the cinnamon rolls
Bake for 25-35 minutes until a toothpick or fork comes out clean when poked
Let the cinnamon roll casserole sit and cool for about 10 minutes
Warm the icing a little bit in the microwave
Drizzle the icing over the cinnamon roll bake
How To Make A Cinnamon Roll Casserole Ahead Of Time
This cinnamon roll casserole is the perfect dish to make ahead and bake on Christmas Morning.
Prepare the casserole up to the point of putting it in the oven and cover with plastic wrap.
Store the unbaked casserole in the fridge for up to 2-3 days ahead of baking.
On Christmas morning preheat the oven to 350 and bake for 25-35 minutes until done. Make sure to use an oven-safe baking dish that can go from cold to hot or let the glass pan come to room temperature before putting it in the oven.
How To Make Christmas Fruit Salad
This is an extremely simple fruit salad that is a great addition to Christmas Morning Breakfast.
Clean and mix together red and green grapes
Mix a squeeze of lime juice with honey
Toss the grapes with the dressing
Sprinkle raspberries and pomegranate arils on the top
Serve and enjoy!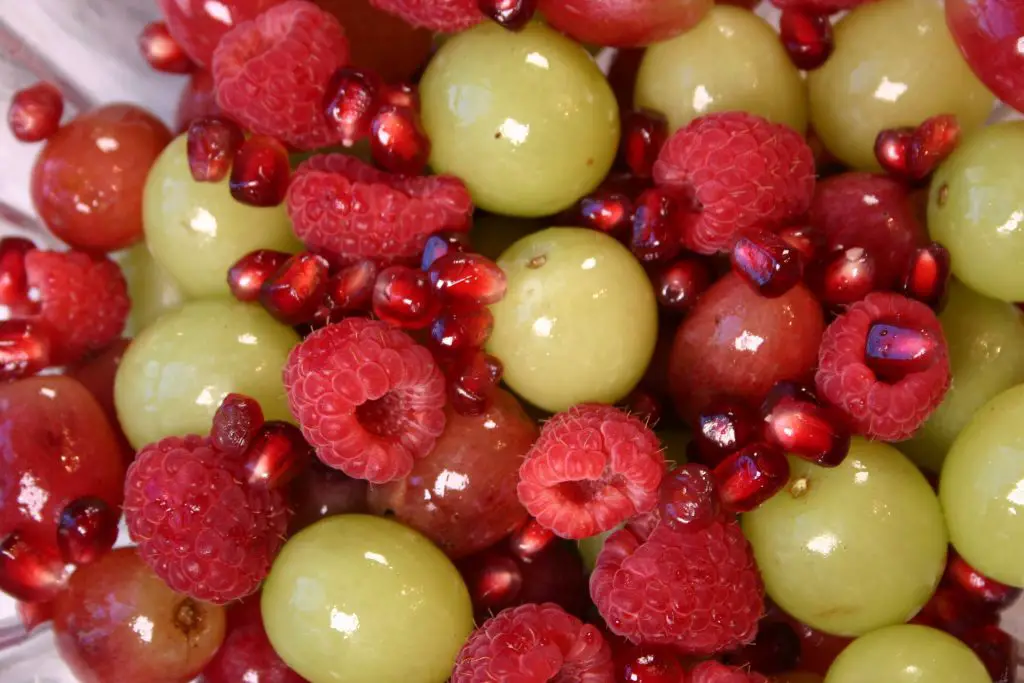 Christmas Salad Make Ahead Tips
When making a fruit salad ahead of time it's best to not mix in any fruits that will get mushy. Keep the raspberries and pomegranate arils separate and sprinkle them on top when serving.
In the interest of keeping this salad simple and festive, the base of the salad is grapes. They are available in both red and green colors, perfect for a Christmas Morning salad.
You can prepare the little dressing glaze ahead of time and toss it with the grapes when you are ready to serve.
How To Prepare A Quick And Easy Breakfast On Christmas Morning
Here are my steps to make preparing this breakfast an easy and simple task.
What You Can Make A Day Or Two Before Christmas
Shop for all of your ingredients
Prepare all of your breakfast taco toppings
Make the scrambled eggs ahead of time (if you choose) and store them in the fridge
Prepare the cinnamon roll casserole up until the point of baking and store in the fridge covered with plastic wrap
Clean and mix together the green and red grapes
Make the fruit salad dressing and store in the fridge
What To Make On Christmas Morning
Preheat the oven to 350
Mix the fruit salad dressing with the grapes and sprinkle the raspberries and pomegranate arils on top and set aside
Bake the cinnamon roll casserole for 25-35 minutes
Make or reheat the scrambled eggs
Put all of the taco toppings and warmed tortillas out in your serving area
Let the cinnamon roll casserole cool for 10 minutes and drizzle with icing
Christmas Breakfast Menu Shopping List
Eggs (figure 2 eggs per person, plus 4 for the cinnamon roll casserole)
Tortillas (Figure 2-3 per person)
Taco Toppings
2 Cans Of Cinnamon Rolls
Butter
1 Cup of Milk
1 1/2 tsp Cinnamon
1 1/2 tsp Vanilla
Red and Green Grapes
Raspberries
Pomegranate Arils
1/2 tsp Honey
lime Juice (squeeze)
How Much Does Christmas Morning Breakfast Cost?
Staple Ingredients
Cinnamon
Vanilla
Tortillas
Butter
Honey
Fresh Ingredients
Milk
Eggs
Apple
Onion
Taco Toppings
Cinnamon Rolls
Grapes
Raspberries
Pomegranate Ariels
Orange Juice
Total Price
For 6 servings this recipe totals $ 22.52
The per serving price is $ 3.75
Tools Used To Make A Christmas Breakfast
This site includes affiliate links to products. We may receive a commission for purchases made through these links
Cheap And Easy Christmas Breakfast Menu –
Course: Breakfast
Difficulty: Easy
This is a full delicous Christmas Morning Breakfast.
Ingredients
Breakfast Tacos

Eggs (1-2 per person)

6″ Tortillas

Taco Toppings

Cinnamon Roll Casserole

1 Cup of Milk

2- Cans Of Cinnamon Rolls

1 1/2 tsp Cinnamon

1 1/2 tsp Vanilla

1 tbs Butter

2- eggs

Christmas Fruit Salad

Red and Green Grapes

Raspberries

Pomegrante Arils

1 tsp Honey

Lime Juice (squeeze)
Directions
Breakfast Tacos
Make the scrambled eggs (see above for make ahead instructions)
Heat the tortillas in the microwave
Prepare the desired toppings
Enjoy!
Cinnamon Roll Casserole
Preheat the oven to 350
Butter a 9 x 12 baking dish
Cut the cinnamon rolls into quarters
Spread the cinnamon rolls evenly into the baking dish
Mix together milk, eggs, vanilla, and cinnamon
Pour the egg mixture over the cinnamon rolls
Bake the casserole for 25-35 minutes or until golden brown and the fork comes out clean
Let the casserole cool for 10 minutes
Warm the icing slightly in the microwave
Drizzle the icing over the casserole
Christmas Fruit Salad
Wash and dry the grapes
Mix the grapes together in a bowl
Mix the honey and lime juice dressing
Mix the dressing with the grapes
Sprinkle the raspberries and pomegrante arils on top