Sonic is known for being a classic American drive-in restaurant with food delivery by car hop. Now with a menu that includes breakfast we need to know what are Sonics Breakfast Hours?
Sonic serves its entire menu including its breakfast items during all hours of operation. Many restaurants open at 6:00 am and close at 12:00 am. You may find some local locations that do not open until later in the day and close earlier.
When Did Sonic Start Serving Breakfast
Sonic has been in operation since the 1950s, it is unknown when exactly breakfast was added to their original menu of burgers and fries.
Do All Sonic Locations Serve Breakfast
Every Sonic location serves breakfast.
What Time Does Sonic Start Serving Breakfast
Sonic starts serving breakfast at 6:00 am at most locations.
Some locations have altered their hours opening later in the morning.
One of my local Sonic restaurants doesn't open until 10:00 am where the rest open at 6:00 am.
What Time Does Sonic Stop Serving Breakfast
Sonic does not stop serving breakfast until they close.
Many locations are open until 12:00 am, some may close as early as 9:00 pm.
Does Sonic Serve Breakfast All Day
Sonic is one of the few restaurants where their breakfast menu is available all day.
What Days Of The Week Does Sonic Have Breakfast
Sonic serves its breakfast menu every day of the week.
Is Sonic Open On Holidays
Sonic is open on many holidays including.
New Years Day
Martin Luther King Day
Presidents Day
Valentines Day
Good Friday
Easter
St. Patricks Day
Memorial Day
Mothers Day
Fathers Day
Independence Day
Labor Day
Columbus Day
Veterens Day
Black Friday
Christmas Eve
New Years Eve
What Holidays Is Sonic Closed
Sonic is closed on Thanksgiving and Christmas Day.
Please note even though Sonic is open on most Holidays they may operate at reduced hours.
Can I Order French Fries During Breakfast Hours At Sonic
If you are craving french fried in the morning you are in luck, you can order french fries during breakfast hours at Sonic.
Can I Order Lunch Items During Breakfast Hours At Sonic
You can order from the lunch menu at Sonic during breakfast hours.
Sonic has made its entire menu available at any time of the day unlike many other fast-food chains like Mcdonald's that have eliminated its all-day breakfast and limited the lunch menu availability.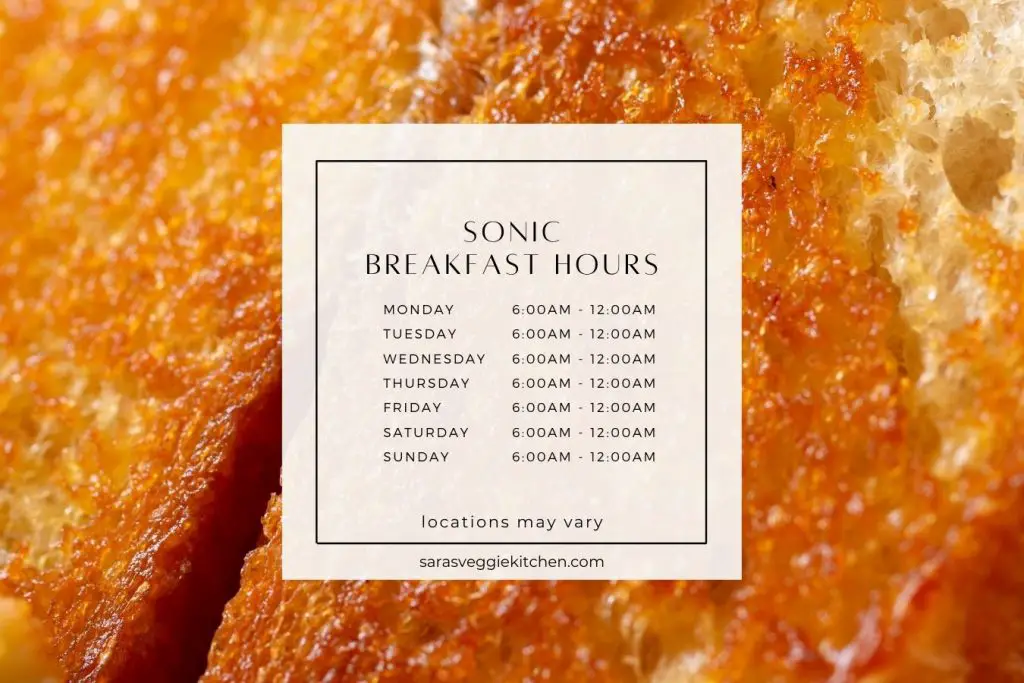 Does Uber Eats Deliver Breakfast From Sonic
You can place a breakfast order during any hours of operation and have it delivered by Uber Eats.
Does Door Dash Deliver Breakfast From Sonic
Door Dash is available to have your Sonic breakfast delivered directly to you in a timely manner.
Does GrubHub Deliver Breakfast From Sonic
GrubHub is available to deliver a hot Sonic breakfast during hours of operation.
Does Postmates Deliver Breakfast From Sonic
Postmates claims to deliver your Sonic breakfast order within minutes.
What Items Are On Sonics Breakfast Menu
National Breakfast Entrees
Bacon Breakfast Toaster
Sausage Breakfast Toaster
Bacon Breakfast Buritto
Sausage Breakfast Buritto
SuperSONIC Breakfast Buritto
Ultimate Meat & Cheese Breakfast Buritto
Jr. Bacon, Egg & Cheese Breakfast Buritto
Jr. Sausage, Egg & Cheese Breakfast Buritto
French Toast Sticks
Cinnabon Cinnasnacks With Cream Cheese Frosting
Sides
Coffee
Original Cold Brew Iced Coffee
French Vanilla Cold Bre Iced Coffee
Green Mountain Coffee
Does Sonic Still Have Breakfast Bowls
Sonic no longer has its breakfast bowls listed on its online menu.
You may be able to find some still available at your local restaurants.
What Is In A Breakfast Bowl At Sonic
Sonics breakfast bowl contains eggs, cheese, tots, bacon, and diced tomatoes.
Does Sonic Still Have Cinnasnacks
Sonic still offers its Cinnabon Cinnasnacks with cream cheese frosting dipping sauce.
Does Sonic Have Hashbrowns
Sonic does not have traditional hashbrowns, they do offer crispy fried potato tots instead.
Does Sonic Have Pancakes
Sonic does not offer a stack of pancakes but, they do have french toast sticks made for dipping in syrup.
Does Sonic Use Real Eggs
Sonic uses only humanely treated cage-free real eggs in their food.
What Is In A Sonic Breakfast Burrito
A breakfast burrito at Sonic comes with a tortilla that is filled with scrambled eggs, shredded cheddar cheese, your choice of bacon or sausage plus optional additional toppings like zesty cheese sauce, jalapenos, diced onions, tomatoes, and sauces.
What Is A SuperSONIC Breakfast Buritto At Sonic
A SuperSONIC breakfast burrito is made from sausage, fluffy scrambled eggs, melted cheddar cheese, crispy tots, diced onions, tomatoes, and spicy jalapeños wrapped up in a warm flour tortilla.
What Is In A Sonic Breakfast Toaster
A breakfast toaster at Sonic starts with two slices of Texas Toast filled with scrambled eggs, melted cheese, and your choice of bacon or sausage.
You can add a variety of toppings and sauces to your breakfast toaster including diced onions, tomatoes, jalapenos, and sauces.
How Much Does Breakfast Cost At Sonic
Breakfast at Sonic ranges from $1.49 for a jr. breakfast burrito to $6.39 for a full combo meal that includes a breakfast sandwich, tots, and a beverage.
How Much Is A Breakfast Buritto At Sonic
Breakfast Burritos at Sonic range from $1.49 for a jr. burrito to $3.99 for a SuperSONIC Breakfast Burrito.
Is Sonic Breakfast Good
Breakfast at Sonic is good as far as what you should expect from a fast-food breakfast.
I like the customizations that are offered on their breakfast sandwiches and burritos giving you full reign to make your breakfast as you would like.
What Is The Best Breakfast Item At Sonic
The best breakfast item at Sonic would be the French Toast Sticks for something sweet and a breakfast burrito for a savory option.
Final Thoughts
I am happy when I find a restaurant that offers breakfast all day.
There is something fun and exciting about being able to order eggs or french toast sticks for dinner.
Between the all-day availability of Sonics' full menu and the fun drive-up experience, Sonic is a great place to grab a quick breakfast.
Other Articles You May Enjoy!