I always stayed far away from sushi. It personally wasn't appealing to me not being a huge seafood fan. Which is almost a sin when you grow up in Maine. You should see the dirty looks you can get when you say you don't like lobster. I have been pleasantly surprised to discover many vegetarian sushi options in recent years but, is vegetarian sushi healthy?
This article will answer if vegetarian sushi is healthy, provide the ingredients in vegetarian sushi, how to make vegetarian sushi, sushi bowls and how to store vegetarian sushi.
Vegetarian sushi is healthy. Sushi is made of many healthy ingredients including sticky vinegared rice, nori seaweed, fresh and pickled vegetables. Vegetarian sushi is served with a variety of healthy condiments and sauces including wasabi, pickled ginger, soy sauce, and hot sauces.
What Is Vegetarian Sushi?
Most people associate the word sushi with dishes made with raw fish. In actuality, the word sushi in Japanese means vinegared rice.
There are four main types of vegetarian sushi.
Nigiri
Nigiri is a pressed or squeezed ball of vinegared rice formed into the shape of a small log. Vegetables are pressed into the top of the rice balls and are often held together with a small ribbon of dried seaweed. Sushi chefs are so skilled they are able to make nigiri in the exact same size and weight by sight. and touch.
Kappa Maki
These are also known as cucumber rolls. A slice of cucumber is rolled in vinegared rice and seaweed. Three are many different variations of maki rolls some feature pickled vegetables. This is a very popular form of sushi that is named after a Japanese water spirit.
Tempura
Tempura is a type of sushi that is dipped in tempura batter and fried. The vegetables often used in tempura are zucchini, eggplant, sweet potato, and carrots.
Inarizushi
Thin tofu wraps that are filled with vinegared rice and fried to a crisp. Inarizushi sometimes includes sesame seed in the vinegared rice mixture or sprinkled over the top.
Seaweed Guncanmaki
Guncanmaki means battleship roll. A seaweed salad is dressed with a flavorful dressing of, chili flakes, soy sauce, sesame oil, sesame seeds, and mirin. The salad is pilled onto a base of vinegared rice and tied with a band of seaweed.
Temaki
Temaki is not tightly rolled like other sushi variations. The term temaki means "hand-rolled". The sushi is assembled by the chef onto an unfolded square of seaweed and handed to the recipient to eat. Since temaki is not tightly rolled it can be messy to eat.
Ingredients For Vegetarian Sushi
If vegetarian sushi doesn't have fish then, what is vegetarian sushi made of?
Vinegar
Sugar
Salt
Rice
Nori
Soy Sauce
Tamari
Tahini
Chili Garlic Sauce
Teriyaki Sauce
Peanut Sauce
Hot Sauce
Avocado
Mango
Wasabi
Ginger
Mushrooms
Carrots
Cucumbers
Tofu
Green Onions
Peppers
Sprouts
Asparagus
Tomato
Lettuce
Radish Cabbage
Sweet Potatoes
Marinated veggies
Pickled veggies
Tempura veggies
Vegetarian Sushi Roll List
There are many vegetarian sushi roll combinations. Here are some delicious vegetarian sushi rolls.
AVOCADO ROLLS- avocado with sticky vinegared rice wrapped in nori
AVOCADO WITH SWEET POTATO- avocado and sweet potato with sticky vinegared rice wrapped in nori
AVOCADO WITH VEGGIES- avocado with cucumber, asparagus, carrots, and cabbage
AVOCADO WITH MANGO- avocado with mango wrapped in rice and nori
CUCUMBER ROLLS- crunchy cucumber wrapped in sticky rice and nori
TEMPURA BROCCOLI WITH CARROTS- tempura fried broccoli with carrots wrapped in sticky rice
TEMPURA SWEET POTATO- tempura sweet potatoes wrapped in rice and nori
How To Make Vegetarian Sushi
Making vegetarian sushi is just like making regular sushi, just without the seafood. The following step by step process is easier than you think.
Prepare the rice for the sushi according to the package and mix with a seasoning mixture of rice vinegar, sugar, and soy sauce and let it cool completely
Lay a sheet of nori flat in front of you
Spread rice onto the nori sheet leaving an inch on the top and bottom and a half-inch on each side
Assemble your fillings onto the rice only on the very end of one side
Start to roll the sushi tucking the nori roll around the end with the fillings, make sure to keep tucking it snugly as you roll
To seal, dip your finger in water and run it along the end of the nori and press the nori edge onto its self
Slice the sushi roll into slices and serve with your favorite sauces and garnishes
How To Make A Vegetarian Sushi Bowl
Vegetarian sushi bowls are an easy way to enjoy the flavors of sushi without having to roll the ingedients into perfectly formed rolls. This deconstructed version of vegetarian sushi is a great option when you are craving sushi.
Vegetarian Sushi Bowl Ingredients
Rice
Rice Vinegar
Nori
Soy Sauce
Sugar
Salt
Vegetables
Sauce – wasabi, ginger, hot sauce
Sesame seeds
Steps To Make Vegetarian Sushi Bowls
Cook the rice as instructed on the package ( 2 cups of rice for 4 servings)
Make the rice sauce by heating up 3 tablespoons of rice vinegar, 1 1/2 tablespoons of soy sauce, and 1 tablespoon of sugar until the sugar has combined
Let the sauce cool and then mix with the rice
Toast the nori in a pan until it is crisp enough to crumble
Prepare the vegetables. I like chopped cucumber, carrot, avocado, mango, and pickled cabbage
Place the rice in your bowls
Arrange the vegetables in an appealing way
Sprinkle the crumbles nori over the bowl
Drizzle with your favorite sauce. I like a little mayo mixed with hot sauce
Sprinkle with sesame seeds
Vegetarian Sushi Recipes
Here are a fun collection of vegetarian sushi recipes to try.
Greenloots – 31 vegan Sushi Recipes
Morgan Bouelvard – 17 Vegan Sushi Recipes
Vegetarian Sushi Calories
When evaluating how healthy vegetarian sushi is, many people were asking how many calories are in vegetarian sushi. There is such a variety of vegetarian sushi options and each will vary in calories. Let's look at the caloric value of some options.
The calories listed below are for one slice of the sushi roll.
Cucumber Roll- 22 calories
Vegetable Roll- 43 calories
Tempura Roll- 66 calories
Tamago Roll- 73 calories
How Long Does Vegetarian Sushi Last
When determining how well sushi can last there are two factors to consider. The safety of the food and the flavors and textures.
Sushi is best when it is made fresh and eaten right away.
How long can vegetarian sushi be kept at room temperature?
Vegetarian sushi should not be eaten if left at room temperature over four hours.
How long can vegetarian sushi be kept in the fridge?
Vegetarian sushi kept in the fridge can be eaten for up to 2 days. Many of the ingredients used in sushi will lose their freshness after a day. The rice can become hard and if an avocado is used it can become brown and mushy.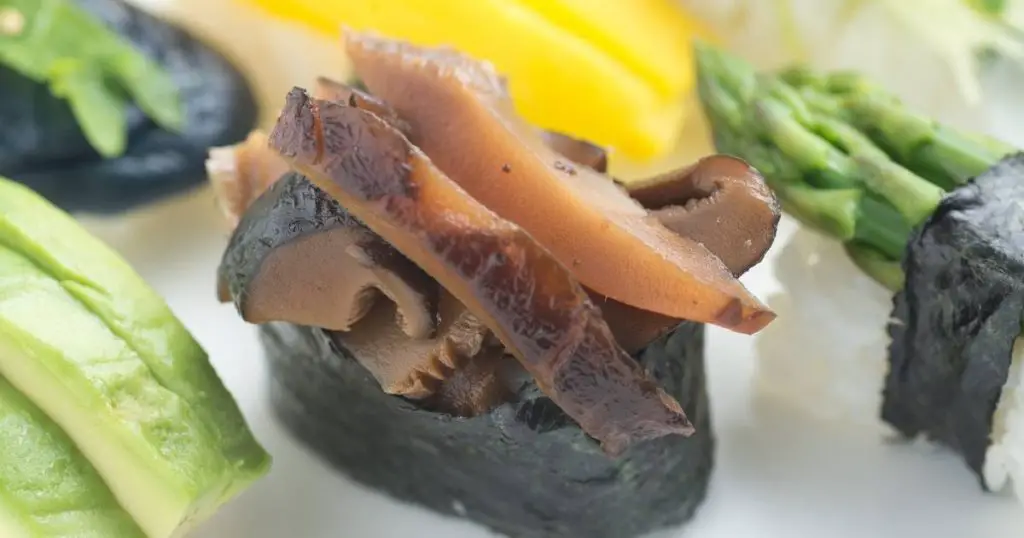 Words To Know When Ordering Sushi
It can be difficult when ordering sushi if you are not familiar with the common terms. Use this sushi guide as a reference.
MAKI- the Japanese word for "roll"
NORI- the seaweed sheets commonly used to make sushi
NIGIRI- vinegared rice formed into an oblong shape topped with vegetables and a band of seaweed
INARI– vinegared rice wrapped in a thin sheet of tofu and deep-fried until golden and crisp
ONIGIRI- triangles of rice and filling wrapped with nori
YASI- the Japanese word for vegetable or vegetable based
HOSOMAKI– a small roll thats wrapped with nori with one filling inside
FUTOMAKI– a large roll with more than one filing
GUKAN– is filling chopped, piled on rice and wrapped in nori
WASABI– Japanease horseradish
SHOYU– soy sauce
FAQ
What is a California roll?- A California roll is a sushi roll with rice, crab or imitation crab, cucumber, nori, and sesame seeds.
Is A California Roll Vegetarian?- California rolls include crab or mock crab which are not vegetarian. You may be able to ask for a California Roll without the crab.
What is vegetarian sushi without seaweed? – Inari sushi is made using a thin sheet of tofu as a wrap instead of using nori seaweed. The wraps are then fried to a crisp.
What is Sashimi? – Sashimi is raw fish sliced thinly and served with sauces and garnishes.
Conclusion
There are many ways a vegetarian can enjoy fish-free sushi. From crunchy and fresh cucumber rolls to pickled vegetables wrapped in sticky rice with spicy wasabi.
The fresh ingredients used to make vegetarian sushi from avocado to nori provide a variety of nutrients.
Vegetarian sushi is a healthy option for those who prefer veggies over fish.
Related Posts