Combos are a classic snack that is a combination of crackers or pretzels with a creamy and often cheesy filling but, are any Combos snacks vegan?
Combos-filled snack crackers are not vegan due to containing numerous non-vegan ingredients that are sourced from animals. In addition to the obvious non-vegan ingredients, you will also discover some controversial and questionable ingredients that many vegans will choose to avoid.
Can Vegans Eat Combos
Unfortunately, vegans can not eat Combos snacks since they contain many non-vegan ingredients including dairy products and animal-based fats.
Luckily, there are some vegan-friendly alternatives that you can try, I've listed them down below.
Why Wouldn't Combos Be Vegan
Combos snack crackers can contain many obvious non-vegan ingredients in addition to a couple of questionable ingredients that many vegans may avoid consuming.
The obvious non-vegan ingredients found in Combos snacks include dairy products and animal-sourced fats.
The less obvious non-vegan ingredients are white sugar and food color, especially yellow #5.
Why Wouldn't White Sugar Be Vegan
White sugar is actually a very controversial ingredient because it can sometimes be processed using bone char.
Although you won't be able to find animal bones in your sugar, there is the possibility that the sugar has touched animal bones causing some vegans to avoid white sugar altogether.
Why Wouldn't Yellow #5 Be Vegan
Unfortunately, food colorings are often tested on animals making them not vegan-friendly.
Yellow #5 is often tested on starved rats that are then killed after the testing processes.
Due to the unethical nature of animal testing, many vegans may avoid food colorings.
Are Combos Made With Real Cheese
Combos snacks are made with real cheese, although it is a very heavily processed cheese, it's still considered real cheese.
Do Combos Have Meat In Them
Combos offer a few flavors that indicate that they could contain meat.
Pepperoni Pizza
Buffalo Blue Cheese
Cheddar Cheese Bacon
Only one of these flavors actually contains meat, the Pepperoni Pizza Combos have beef fat the remaining flavors are meat-free.
Do Combos Contain Dairy
Combos snack crackers contain a wide variety of dairy products in their snacks.
In any Combos snack, you may find the following dairy products.
Dairy Product Solids
Cheddar Cheese
Parmesan Cheese
Romano
Milk
Skim Milk
Whey
Buttermilk
Do Combos Have Eggs In them
The classic Combos snack crackers and the pretzel Combos do not contain eggs.
Do Combos Contain Honey
Although one of the Combos flavors has honey in its name, Spicy Honey Mustard Pretzels, the snacks themselves actually do not contain any honey.
The Spicy Honey Mustard Pretzels still contain dairy product solids making them not vegan-friendly.
What Are Combos Made Of
The classic Cheddar Cheese Combos covered in a cracker coating contain the following ingredients.
INGREDIENTS: WHEAT FLOUR, PALM OIL, DAIRY PRODUCT SOLIDS, MALTODEXTRIN, CORN OIL, SUGAR, MODIFIED CORN STARCH; LESS THAN 2% OF: SALT, BAKERS AND CHEDDAR CHEESE BLEND (MILK, CHEESE CULTURES, SALT, ENZYMES), LEAVENING (BAKING SODA, SODIUM ACID PYROPHOSPHATE), DEXTROSE, SOY LECITHIN, COLORS (YELLOW 5 LAKE, YELLOW 6 LAKE, BLUE 1 LAKE), WHEY, HYDROLYZED CORN GLUTEN, NATURAL FLAVOR, LACTIC ACID, YEAST EXTRACT, LACTOSE, BUTTERMILK, CITRIC ACID.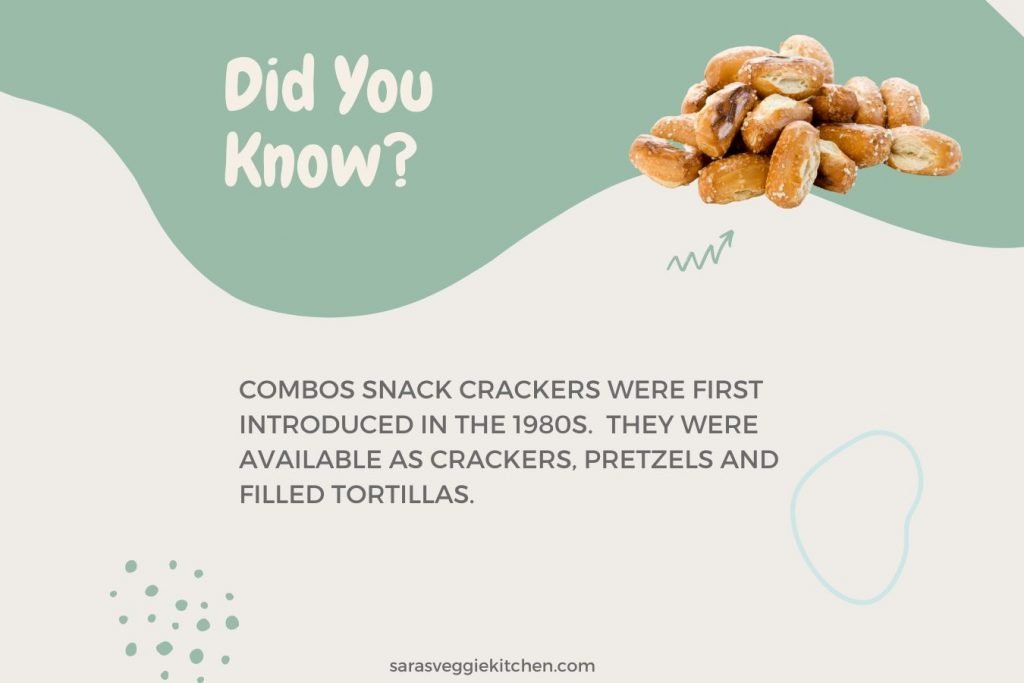 Are Pretzel Combos Vegan
The very popular Preztel Combos are unfortunately not vegan-friendly due to containing animal products like dairy and beef fat.
Are There Any Vegan Combos Substitutes
With Combos being such a unique snack product it was challenging to track down a perfect vegan substitute.
It's easier to find a peanut butter-filled cracker compared to a vegan cheese-filled cracker bite.
Luckily there is one brand that makes delicious vegan cheese-filled pretzel nuggets very similar to Combos.
Once you have tried the Cheezy Pretzel Nuggets you may be tempted like me to try the Vegan Chocolate Filled Pretzel Nuggets or the Vermont Maple Kettle Corn.
Final Thoughts
Some nostalgic snacks like Combos can be frustrating for vegans to discover the abundance of non-vegan ingredients inside.
Even though Combos are not vegan there are some great vegan alternatives that you can try the next time you have a cheesy, salty, and crunchy craving.
Other Articles You May Enjoy!